Photo: New setting for weekly press conference provides a more conversational, friendly tone.
RHODE ISLAND & VICINITY
The RI National Guard has produced a video about how to register for one of the 2 (eventually 4) mass vaccination sites.
General Treasurer Seth Magaziner launched the Frontline Heroes Fund, new program to provide the children of frontline workers who have passed from COVID-19 with a $2,500 scholarship in a CollegeBound Saver account.  COVID-19 has taken the lives of over 2,500 Rhode Islanders. Treasurer Magaziner is launching this program to honor the legacy of the brave frontline workers who have kept the state's economy running and to support the future success of their families.  CollegeBound Saver is a tax-advantaged savings plan that allows Rhode Islanders to affordably save for higher education. Savings can be used at accredited colleges, universities, trade, and vocational schools worldwide, as well as for registered apprenticeship programs.
After meeting conference, institutional and RIDOH COVID protocols for contract tracing and return to play, Bryant has confirmed its intent to participate in the 2021 NEC Men's Basketball Tournament."
Four new cases of the "U.K. variant" coronavirus strain were identified in Rhode Island on Tuesday, the state Department of Health said, bringing the total number of cases found in the state to seven.
More than 500,000 Connecticut residents between 55 and 64 years old became eligible this week for COVID-19 vaccinations, but Gov. Ned Lamont warned it could take more than three weeks for the majority to get their first shot.
The Little Sisters of the Poor will hold its annual St. Patrick's Day fundraiser at The Old Grist Mill Tavern on Wednesday, March 17, from 11 a.m. to 6:30 p.m. This year the format is carry out.
The Old Grist Mill Tavern has hosted an annual event for the Little Sisters of the Poor for St. Patrick's Day – the 2021 dinner, while a take-out format, will be exactly the same as past years: corned beef and cabbage prepared by the Old Grist Mill Tavern culinary team, along with the traditional accompaniments that guests have come to enjoy including soup, salad, sides, Irish soda bread, and dessert. The cost of the dinner is $17 for adults and $7.50 for children under the age of 12. Tickets are limited and must be purchased in advance.
RI will open two more state-run mass vaccination sites, including the former Sears building in Woonsocket.
Valley Breeze reports that "With some estimates finding that the city of Pawtucket could be in line to receive nearly $60 million through the federal stimulus plan now under consideration."
An outbreak of COVID-19 at the Vermont state prison in Newport has grown to 100 inmates and eight staff members,
United Way of RI says they have received 90,000+ phone calls to their help line, 2-1-1 about the pandemic.
URI's Rhody Hillel will hold a virtual reunion on March 14th.
Student-athletes at Salve Regina University are pleased that the Board of Directors for the Commonwealth Coast Conference approved its plan to return to competition.
For those 65 or older and live in Newport or Middletown, a limited amount of spots are available for a clinic being held Friday at the CCRI site in Newport. Click here to reserve an appointment. 
Department of Public Works in Tiverton will continue to be shorthanded after two more workers returned a positive test. They refer to many employees coming down with an "infestation of COVID".
The Vermont National Guard-run clinics in South Burlington on Friday and this weekend still had numerous available appointments for first-dose vaccines for people 65 and older.
The Lisbon, Maine Town Council has voted to skip the Moxie Festival this summer.
A mass vaccination site by appointment only for this weekend at the New Hampshire Motor Speedway with a goal of inoculating 10,000 people.
Dr. Ranney is predicting a back-to-normal in August though masks may not go away.
The Newport St. Patrick's Day will not be held this year – they may reschedule to the fall.
The Roman Catholic Diocese of Portland will livestream St. Patrick's Day Mass this year. Maine Catholics have numerous other events planned for St. Patrick's Day week, including a "virtual party" via Zoom from Our Lady of Hope Parish on March 15.
Bishop Tobin issued a recommendation that if people had a choice on a vaccine, to opt for the Moderna or Pfizer shot, but if there is no choice, it is absolutely ok to take the shot. The fetal cell line used in research is from decades ago – which has been widely replicated over the years, far distant from any medical policy now.
In Gloucester, MA: Teachers will be eligible to register for vaccines starting March 11
The mass vaccination site at Fenway Park will begin to transfer operations to the Hynes Convention Center later this month.
Educators can now start up on March 11th on the state of Massachusetts' website…
Incoming Governor Dan McKee and his wife Susan received their first dose of the Pfizer COVID-19 vaccine this morning at the Dunkin' Donuts Center.
Reported by the Newport Daily News: Restore Greater Newport, a task force formed by the chamber and other industry leaders in March 2020 to minimize the impact of the COVID-19 pandemic on local business, announced a list of six recommended actions at a Tuesday morning press conference it hopes will aid Newport-area businesses recovering from the pandemic and moving into the 2021 summer tourism season. Two of the task force's recommendations focus on aid to the tourism and hospitality industry, which Donovan-Boyle called a key business sector in the Greater Newport region. The task force is asking the state to develop and communicate a reopening plan for the tourism industry and identify state funding for regional travel marketing. 
Gov. McKee's first press conference
Gov. reviewed his day yesterday visiting vaccination sites, small businesses, and local churches to discuss outreach.
Doing approx.. 8K shots per day in RI.
Teacher vaccination: RI adopts this as a goal. More to say on that next week. Right now, CVS is doing this, at limited capacity.
More than 80% of Rhode Islanders over 75 have been vaccinated. More than 60% over 64-75 have been vaccinated.  46,000 more appts scheduled between now and March 13th.
Double down on wearing masks, and being vigilant, knowing that variants are around.
March 14th – will be next date for flexibility on our businesses.
Need to get vaccine out of inventory and into arms. Support our communities as they move to regional sites. Open more state sites. Vaccinate more school staff.
Dr. Scott reviewed data:
375 new cases – 1.9% positivity – we've basically stayed the same over time with a few increases in some communities. 4 new variant cases in RI. Hospitalization data continue to improve, down about 73% from peak in Nov/Dec. Sadly, 5 new deaths. Overall fatality data continues to hold steady. 84% decrease from December peak.
Vaccination efforts expanded – 290,000 doses administered (25% ofo RIslanders 16+) – one dose.
3 public channels – retail pharmacies; regional/municipal clinics; 2 state run sites. – we will open new sites in Middletown and Woonsocket. State run sites ages 65+. Educators will be vaccinated with a mid-March target.
Jansson (J&J vaccine) is starting to come in. Rec'd 9,100 doses and are distributing them now. Also will be for homebound individuals soon.
Hardest hit communities: Central Falls is good news – 34% of adults have had at least one dose. 93% 65+ have rec'd at least one dose. 63% decrease in cases. Other communities need attention: Pawtucket and specific areas of Providence. We have the model that we tested in CF.
Testing program for businesses: Free rapid test kits available for businesses. To learn more go to: help.ri.gov for announcement.
New round of serology testing: looking for antibodies for COVID-19. 10K randomly selected households now available through March 12th.
Treatment: we have very effective treatments – covid.ri.gov/treatment – treatment available with or without insurance.
Education Commissioner Infante-Green:
It was a breath of relief for all of us for Gov. McKee to "side with us" that school staff are essential and a priority.
Stefan Pryor – CommerceRI
4 areas of revision
Gyms, fitness centers – changing capacity limits from 1 person to 125 sq. ft. to 100 sq. ft. Density increases. There is an exception process for smaller studios where they can describe specifics such as testing, plexiglass, etc. – Contact dbr.ri.gov – outdoor fitness activities conducted by professional gyms, etc. – no restrictions as long as people are 6 ft. apart, mask-wearing. Effective now. Creating more guidance for close contact sports facilities such as martial arts, etc.
Restaurants – beginning today increasing capacity from 50% to 66% capacity. Restrictions on table seating and households are still in effect. Have not changed bar seating curfew.
Catered events at venues (weddings…) – issuing new guidance on dancing and beginning of April, still anticipate growing numbers to 100 indoors and 150 outdoors. More details including going forward plan so people can plan ahead.
Funeral Homes – incremental relief – current 15 in and 25 out – now 30 indoors and 50 outdoors. Effective tomorrow.
Q&A
Q: Variants
A: Need to watch this – hope there is little chance that we would have to go backwards
Q: When can kids ditch masks?
A: There's still time for that – masks are necessary – after summer, probably in fall, new reassessments
Q: Next eligibility group – and teachers – still good for mid-March
A: A number of things will dissect to make this possible – fewer partners, more vaccine, pharmacy partnership,
Q: Homebound – is there a plan?
A: Still working on this – working with Vendors. Having list is important to use to build from.
Q: What is deadline to have kids back in classroom?
A: Working closely with municipalities to get teachers vaccinated and working with superintendents to see where we are – part of limitations comes from CDC guidance on bussing and size of classrooms. Don't think we can give a deadline of April 1st. or any deadline right now. We have 208 schools fully in person. In proportion, more than MA. 99 of them are hybrid. Only 4 schools that are fully virtual. Majority of kids are now in person. MA has not been in school all year.
Q: Where are we with Providence schools progress?
A: We are in the 9th inning – we're at the tail ending of negotiation.
Q: Serology testing – what are you looking for?
A: It will be interesting to see how far we've come – it's validation for our progress.
Q: Is there any money left for small business?
A: We have several million dollars to put into this left over.
Businesses with compliance problems as of March 1st:
Data – March 3, 2021
Deaths: 5
Tests – 127,727 – Positives – 375 – Percent positive – 1.9%
Hospitalized – 148 – In ICU – 23 – Ventilated – 16
Deaths in hospital – 0 – New Admissions – 18 – New Discharges – 20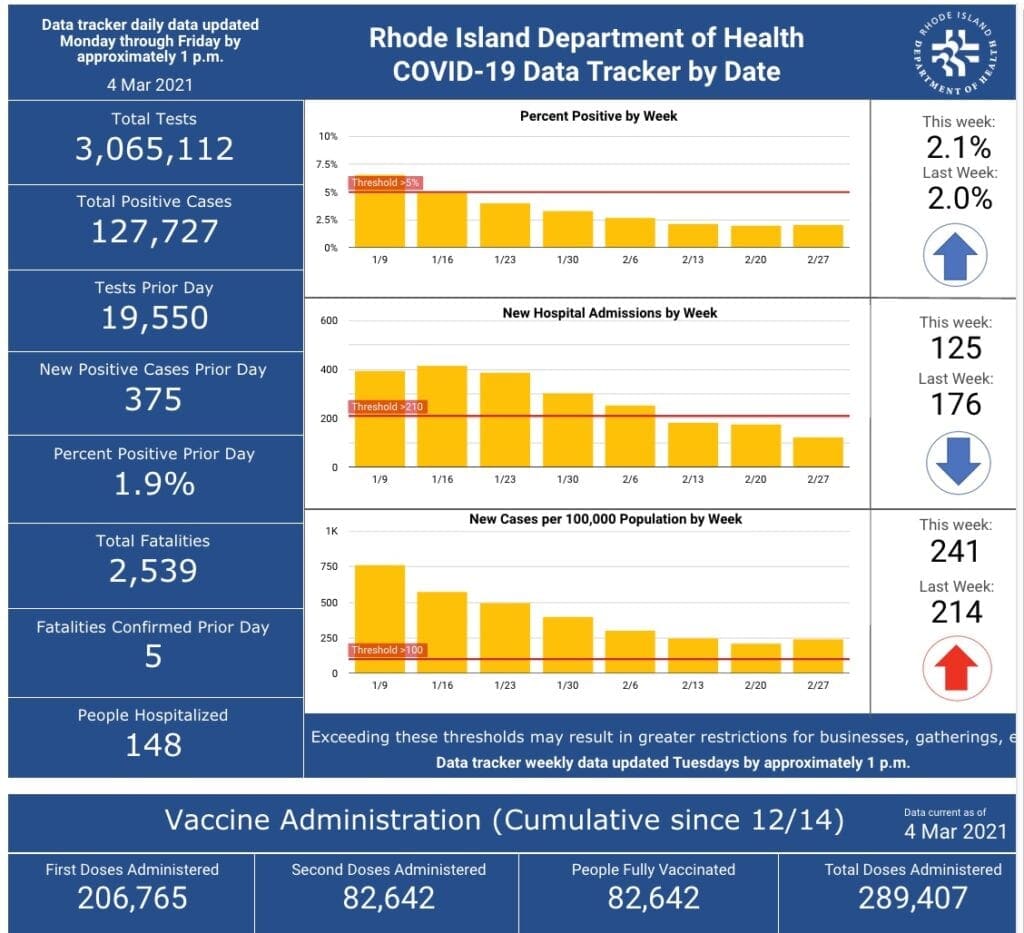 Cases by community:

NATIONAL & INTERNATIONAL
Mississippi Governor Tate Reeves (R) was the first to respond to Biden's remark, writing on Twitter: "President Biden said allowing Mississippians to decide how to protect themselves is 'Neanderthal thinking.' Mississippians don't need handlers," Reeves said. "As numbers drop, they can assess their choices and listen to experts. I guess I just think we should trust Americans, not insult them." – "The Biden Administration is recklessly releasing hundreds of illegal immigrants who have COVID into Texas communities," Abbott tweeted. "The Biden Admin. must IMMEDIATELY end this callous act that exposes Texans & Americans to COVID.
In anticipation of the new CDC guidelines advising people what they can and cannot do after being vaccinated, this is outlined by Politico: "The CDC is expected to recommend that fully vaccinated individuals should limit social interactions to small gatherings with family and other vaccinated people, wear masks in public, and continue social distancing. The guidance will also include additional information about where and how vaccinated people should socialize, along with travel considerations. As many states begin relaxing restrictions upon masks and restaurant capacity, the CDC will urge individuals to adhere to mitigation measures to limit the spread of the virus." Final guidelines should be out this week.
CDC went further to caution states not to open up too soon as one state after the other announced quick changes. CDC Director Rochelle Walensky said, "with these new statistics, I am really worried about reports that more states are rolling back the exact public health measures we have recommended to protect people from COVID-19," Walensky said. "I understand the temptation to do this — 70,000 cases a day seems good compared to where we were just a few months ago — but we cannot be resigned to 70,000 cases a day, 2,000 daily deaths." 
New stimulus plan, which is not yet approved revises for $1,400 stimulus checks to phase out if you make more than $75,000 as a single filer or over $150,000 as a joint filer. Those no longer eligible are if you have an individual income of over $80,000 or $150,000 while filing jointly, rather than the $100,000 and $200,000 proposed in the House plan. 8 million people who would have received some form of payment under the House plan will no longer be eligible. 
One of the new virus variants, B.1.1.7, may be as much as 50 percent more transmissible than earlier types of the virus. That means we should keep wearing face masks, even as some states are lifting mask mandates.
Testing reached its peak of roughly 2 million tests per day in mid-January, but the average number of tests has fallen by nearly a third since then. Experts believe the decrease in testing has largely been driven by recent declines in cases across the country, the end of holiday travel season, and a growing focus on vaccines.
Majority of Small Businesses Not Requiring Employees Get Tested or Vaccinated
South Carolina, Alaska, and Indiana moving quickly to lower ages – vaccinating those over 55, with plans to lower asap.
Senate votes to go into marathon debate over $1.9 trillion stimulus package bill.
New York, one of the first states in the U.S. to implement travel restrictions on domestic visitors last spring, took another step toward relaxing its COVID-19 policies Wednesday by lifting the quarantine and COVID-19 testing restrictions on people who have been vaccinated within 90 days of their second inoculation.
Mexico's National Immigration Institute, the INM, said Wednesday that it took tourists an average of only one to two minutes to enter the country, to process paperwork and contact info.
International arrivals in Cancun took the biggest hit in January, dropping nearly 55% but domestic arrivals of people boarding flights within Mexico to Cancun were down only about 18%.
Arizona has so much vaccine it is now vaccinated anyone over 18.
Australia extends international travel ban, maybe not opening until the fall.
Super Bowl 55 resulted in 57 total COVID-19 cases. Thousands of fans traveled to Tampa to attend the game and surrounding events.
California is not prioritizing prisoners for vaccinations.
New Jersey's supply of vaccines, far below demand, will "explode" around Easter, Gov. Phil Murphy said Wednesday.
Pennsylvania vaccine clinics for teachers, school staff and child care workers will begin next week
Hotels, tour companies and other travel providers are crafting bubble travel options for people seeking a vacation experience while limiting contact outside their immediate group. (https://providencejournal-ri.newsmemory.com?selDate=20210305&goTo=ZB06&artid=0)
In South Carolina, the state's largest hospice provider is partnering with state health officials to pilot an effort to vaccinate the homebound.
108 illegal immigrants released into the country from the Mexican border have tested positive
"As lambs lie with lions across the pharmaceutical industry", it's been said of the relationship with Merck agreeing to manufacture doses of the Covid-19 vaccine from rival Johnson & Johnson in a deal that goes one step beyond similar agreements.
President Biden is making it clear that teachers are "essential workers"
It is estimated that 1 in 3 nonprofits is in financial and stability jeopardy in the US
For COVID-19, convalescent plasma "just doesn't look like it's providing any significant impact on things that count: mortality and hospitalization," said Daniel Griffin, an infectious disease specialist at ProHEALTH Care in New York.
The Children's National Hospital will offer vaccinations to qualifying 16- and 17-year-olds
"Jazz Fest" in New Orleans is moving to October, rather than the end of April.
Thousands of UPS and FedEx pilots have flown around the globe for months to deliver doses of Covid-19 vaccines. But many pilots have yet to receive the vaccines they're transporting. The average UPS pilot is 52 years old, too young to be eligible in parts of the country, but FedEx and UPS pilots are testing positive for the virus at a higher rate than the general U.S. population. By the end of February, 963 of the more than 8,100 pilots at these two companies had tested positive.
The Jewish news agency said that Jews in mourning are finding unexpected comfort in virtual minyans by listening to the morning rituals on ZOOM without necessarily having a person to remember.
Covavaxin, the COVID vaccine developed in India, has an 81% efficacy rate according to interim results from its manufacturers.
Alabama will lift Mask Mandate on April 9.
AARP members are speaking out to ensure people age 50+ are prioritized in the federal relief bill, because "we have faced some of the worst consequences of the pandemic" – you can send your support to… https://bit.ly/3ec1XY0.
17 states are ready to lift mask mandates.
New Jersey ok'd weddings of 150 people.
California to set aside 40 percent of vaccine doses for areas most at risk.
3 Mass vaccination sites will open in NY today. With 3 additional sites to go round the clock with vaccinations.
Georgia will open five sites in two weeks.
FEMA has seven mass vaccination sites in California, New York and Texas, with more on the way.
Pfizer and Moderna both have completed enrollment for studies of children ages 12 and older, and they expect to release the data over the summer
Arizona opens all schools to in-person learning by March 15th – done by Executive Order of the Governor.
Germany's vaccine authority will recommend AstraZeneca's coronavirus vaccine for over-65s.
Today in Rhode Island you could find…