Check out the Nov. 15 edition of What's Trending in Aerospace, where editors and contributors for Avionics International bring you some of the latest headlines happening across the global aerospace industry.
Commercial 
Emirates Group Reports Half-Year 2020-2021 Results
The Emirates Group announced its half-year results for its 2020-21 financial year in a Nov. 12 press release.
Group revenue was AED 13.7 billion ($ 3.7 billion) for the first six months of 2020-21, down 74 percent from AED 53.3 billion (US$ 14.5 billion) during the same period last year, according to Emirates.
"This dramatic revenue decline was due to the COVID-19 pandemic which brought global air passenger travel to a halt for many weeks as countries closed their borders and imposed travel restrictions," the airline said in the release. "As part of pandemic containment measures, Emirates and dnata's hub in Dubai also suspended scheduled passenger flights for 8 weeks during April and May."
Emirates carried 1.5 million passengers between 1 April and 30 September 2020, down 95% from the same period last year. In contrast, the airline reported an "uplift" of 65 percent to its cargo volumes compared to the same period in 2019.
Etihad Engineering Launches Face Mask Production Facility 
Etihad Engineering, the Maintenance, Repair and Overhaul (MRO) arm of Etihad Aviation Group, has accepted an order for 1.3 million face masks to be manufactured at its newly established in-house face mask production facility, according to a Nov. 10 press release.
Over the next three months, the medical face masks will be distributed to staff across the entire Etihad Aviation Group from cabin and ground crew, to catering, cargo, engineering employees, and medical professionals. The new facility operates fully automated machines that are capable of producing up to 20,000 masks daily.
"Since the start of the pandemic, we witnessed consistent demand for face masks at the workplace. With the safety, health and wellbeing of our customers and employees our paramount concern and top priority, we saw an opportunity to be self-sufficient," said Haytham Nasir, Vice President Airframe Services, Etihad Engineering.
GE's Blockchain-Powered Wellness App Makes Debut at Albany International Airport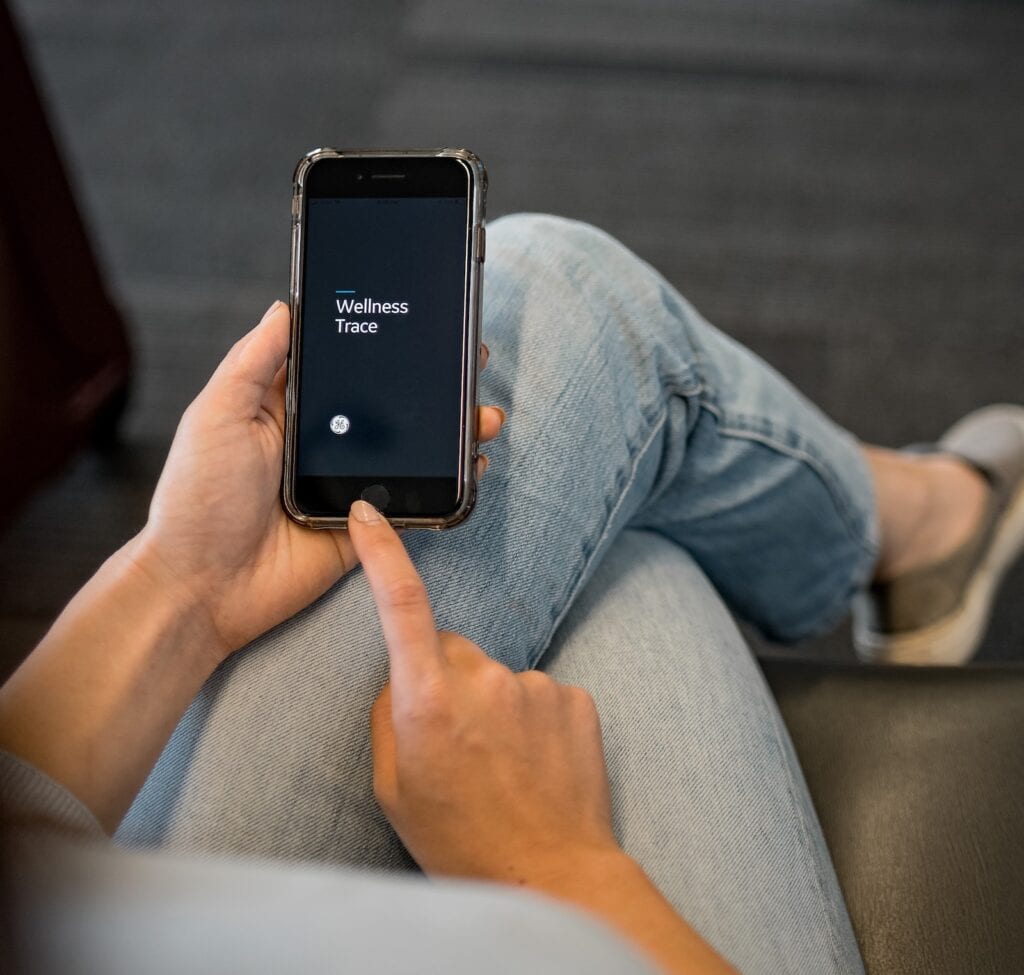 Albany International Airport has become the first to start using a new blockchain-powered smartphone application that uses QR codes to show passengers real-time tracking of cleaning of touchpoints and surfaces throughout terminals, restaurants and other areas.
Wellness Trace is GE's new application that the company envisions establishing a community among airline travelers similar to Waze where they can check the app to get a sense of the cleanest restaurants, stores, bathrooms, and other areas of the airport. Albany started using the app after a three-month trial and has now put into operation with more than 45 QR barcodes located throughout the airport.
Check out the full article here.
Business and General Aviation 
AEA Q3 Report Shows Decrease from 2019
The third-quarter 2020 Avionics Market Report was published by the Aircraft Electronics Association (AEA) on Nov. 9 showing a 27 percent decrease during the first nine months from 2019 but a 5.9 percent increase compared with the second quarter of 2020.
In the first nine months of 2020, worldwide business and general aviation avionics sales equaled more than $1.6 billion, according to the release. Third-quarter sales were down 33.4 percent compared to 2019.
"The significant contraction of industry sales during the last six months has been driven by the international health crisis," AEA President and CEO Mike Adamson said in a press statement. "However, we are encouraged with the direction of activity in the retrofit market, which is up nearly 11% over second-quarter total sales. In addition, the overwhelming majority of AEA member shops and manufacturers are continuing their essential operations, and many are reporting customer backlogs that extend several weeks and into next year."
The retrofit market amounted to 54.5 percent of the $1.6 billion reported in the first nine months of 2020, according to the release. Forward-fit sales totaled 45.5 percent of the total.
Mid-Canada Mod Center Completes First Canadian Installation of Universal Avionics InSight Display System

Mid-Canada Mod Center (MC2) recently completed installation of a Universal Avionics (UA) InSight Display System on a Citation VII aircraft. This marks the first Canadian installation of Universal Avionics' integrated flight deck solution.
"Repair costs for legacy avionics on an aircraft of this age are typically quite high and some of the systems are no longer supported," said Bill Arsenault, president of Mid-Canada Mod Center. "The main goals here were to enhance safety through better situational awareness, and extend the usable life of the aircraft with a modern cockpit. This Citation VII had relatively few upgrade paths available, but having worked on older aircraft for many years, it was clear to us that the Universal Avionics InSight Display System would meet our client's goals."

Connectivity
SES and Intelsat CEOs Clash on Approaches to Serving IFC Market
Viasat's new CEO Rick Baldridge joined executives from major satellite operators SES, Intelsat, Hughes Networks Systems, and Eutelsat on a virtual executive panel just days after he was named the new CEO replacing Mark Dankberg. The discussion at World Satellite Business Week Virtual Edition hosted by Euroconsult, centered on numerous topics, but mobility was one area in which perspectives differed, as Intelsat and SES shared different ideas.
Intelsat CEO Stephen Spengler talked in depth about Intelsat's recent acquisition of Gogo saying that he feels very strongly about the growth of In-Flight Connectivity (IFC), and that it will be a double-digit growth market over the next decade. However, it is clear that Spengler believes traditional approaches can definitely be improved upon.
"Our view is that the service provider level was not performing optimally. The impact was really felt by customers. By vertically integrating here, we can dramatically change the customer experience. We are going to be enhance that user experience. Our integration planning is well underway. We will make some significant network investments to support this. We think this is a long-term growth area for Intelsat, as well as the industry as a whole," Spengler said.
Check out the full article first published in Via Satellite, a sister publication to Avionics International.
Embedded Avionics
Telemus ELINT UAV Gets New IF Recorder
Unmanned air vehicles (UAV) part of the Telemus ALR-510 ELINT/ESM system will now have a Penteck Talon RTX 2589 rugged intermediate frequency (IF) recorder for operational use, Pentek announced in a Nov. 9 press release. The IF recorder will digitize and capture wideband IF analog signals.
"Telemus chose this recorder not only for its wide instantaneous bandwidth and environmental performance but also for its rugged, compact design," James Rose, director and general manager at Telemus, said in a press statement. "The Pentek IF Recorder was added to the system to meet the end user's requirement for continuous data capture."
The Pentek RTX 2589 is the latest IF recorder to satisfy the operational needs of the Telemus electronics intelligence (ELINT) UAV systems, according to the release. The ALR-510 ELINT/ESM system has been used to detect, identify, and geolocate radar system during military operational missions within a NATO country.
Military
BAE System Submits RFI for Japan's Next Generation Fighter
BAE Systems is proposing its package of integration for Japan's F-X next-generation fighter development program by submitting a request for information (RFI) to the Japanese Ministry of Defense (JMOD), according to a Nov. 5 press release. The announcement comes just a week after Mitsubishi was picked as the main contractor to develop the F-X.
BAE Systems is offering technical capabilities over a range of key areas, according to the release.
"We firmly believe that we can add significant value to the F-X program," Andy Latham, Campaign Delivery Director – Japan, for BAE Systems' Air business, said in a press statement. "We look forward to further progressing our discussions and we are honored to have the opportunity to collaborate with Japan on this program."
Last week the JMOD chose Mitsubishi Heavy Industries to be the main contractors for Japan's next-generation stealth fighter, the AP reported.
Elbit Systems Selected to Compete in JADC2 ID/IQ
Elbit Systems of America, a manufacturer of high-performance products, system solutions, and support services, was chosen by the Air Force to compete in future orders for the Joint All-Domain Command and Control (JADC2) indefinite-delivery/indefinite-quantity (ID/IQ) contracts, according to a Nov. 9 press release.
The JADC2 ID/IQ's purpose is to develop and operate systems as a unified force across all domains with an open architecture system to enable capabilities via multiple integrated platforms.
"Elbit Systems of America is honored to help the U.S. Air Force realize the vision for connecting sensors and effects across multiple domains," Raanan Horowitz, President and CEO of Elbit Systems of America, said in a press statement. "Our concept for JADC2 facilitates our Warfighters enjoying an asymmetric advantage by providing tools that shorten reaction time and aid in decision-making. To achieve this, we are developing networked, AI-enabled solutions that fuse sensors and data to increase situational awareness and deliver increased lethality."
Unmanned
Kongsberg Geospatial and Unifly Partner to Enable Remote ID
Kongsberg Geospatial, a Canadian manufacturer of real-time software for air traffic control, and Unifly, unmanned traffic management (UTM) technology company, have partnered to create a real-time e-identification and tracking, or remote ID, system, according to a Nov. 12 press release. Identifying and tracking drones is key to integrating them into the national airspace.
The system will use Unifly BLIP (Broadcast Location & Identity Platform) and other real-time sensors to give pilots a view of their operational airspace when flying beyond visual line of sight (BVLOS).
"Remote identification and real-time tracking are two foundational capabilities for the safe and secure integration of drones into the airspace, especially around critical infrastructure and in urban areas," Laurent Huenaerts, General Manager of Unifly in North America, said in a press statement. "The Unifly BLIP tracker provides this information and its Data Platform allows for a seamless integration with situational awareness systems like IRIS. We are very pleased to now be integrated with the world-leading airspace visualization platform that Kongsberg Geospatial has developed."