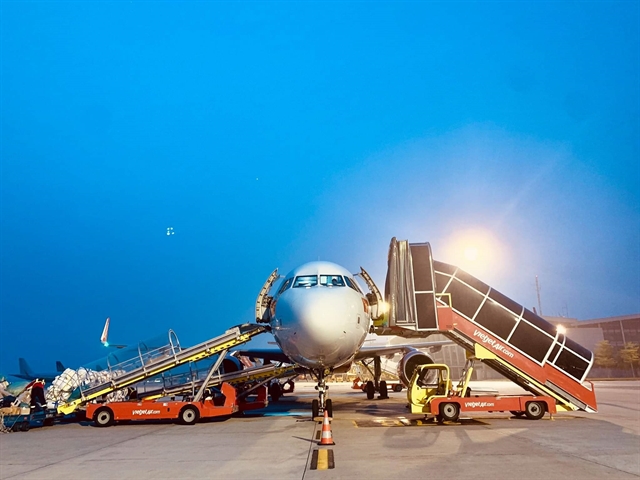 A Vietjet plane lands at Nội Bài International Airport in Hà Nội.— Photo courtesy of Vietjet
HCM CITY – Vietjet has been recognised as the low-cost carrier of the year and the belly carrier of the year for its outstanding cargo transport in 2020 by Payload Asia – an international magazine for the air freight industry.
"Vietjet wins the double awards this year thanks to its agility in air cargo strategy since March 2020, the very early stage of the global pandemic," Payload Asia Editor Giullian Navarra said.
"With outstanding cargo activities throughout the year which helped fill the logistics gap in the regional and global supply chain, the carrier has impressively demonstrated its excellence to the industry professionals."
"We're very delighted to receive such international recognition for Vietjet's air cargo activities in the very challenging year of 2020. I believe that the freight operation of Vietjet in particular and of global airlines will get much busier in the future," Vietjet Cargo CEO Đỗ Xuân Quang said.
The 7th Payload Asia Awards acknowledged the best companies in the air cargo market, including global carriers, airports, logistic suppliers of the year, putting the spotlight on services that benefit the rising e-commerce market.
Last year, Vietjet configured some of its passenger aircraft for freight transportation purpose while applying new operational methods to strengthen its cargo service capacity. 
The airline delivered more than 60,000 tonnes of cargo transnationally, seeing its freight revenue leaping by 75 per cent over the previous year's.
Through interline agreements, Vietjet's cargo also landed in America and Europe for the first time in 2020. The airline is set to be among a few airlines in the world reporting positive consolidated financial statement for 2020. — VNS