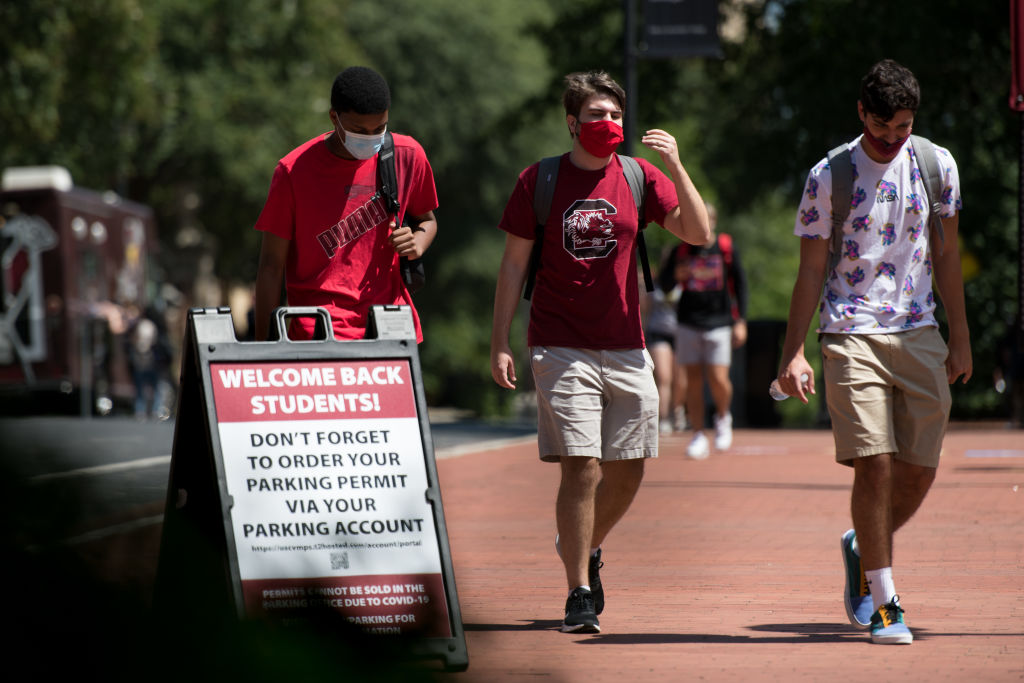 This is Bloomberg Opinion Today, a keg party of Bloomberg Opinion's opinions. Sign up here.
Today's Agenda
Plus ça Change, Plus C'est la Même Coronavirus
About six months ago, back in early March, I started working from home, my kids started learning from home, a pandemic was raging and health-care workers lacked adequate equipment. Today, in early September … I am still working from home, my kids are still learning from home, a pandemic is still raging and health-care workers still lack adequate equipment.
Some things have changed, of course. At least 190,000 Americans have died from Covid-19. And now we know, thanks to an interview he taped with Bob Woodward six months ago, that President Donald Trump purposefully downplayed the coronavirus at the time. Still, despite having half a journey around the Sun to adjust to this nightmare, we haven't quite figured it out. Colleges have invited kids back en masse, but many haven't managed to do so safely, notes Max Nisen. Case counts are rising, as even institutions with solid plans haven't cracked the timeless riddle of how to keep college kids from keggers.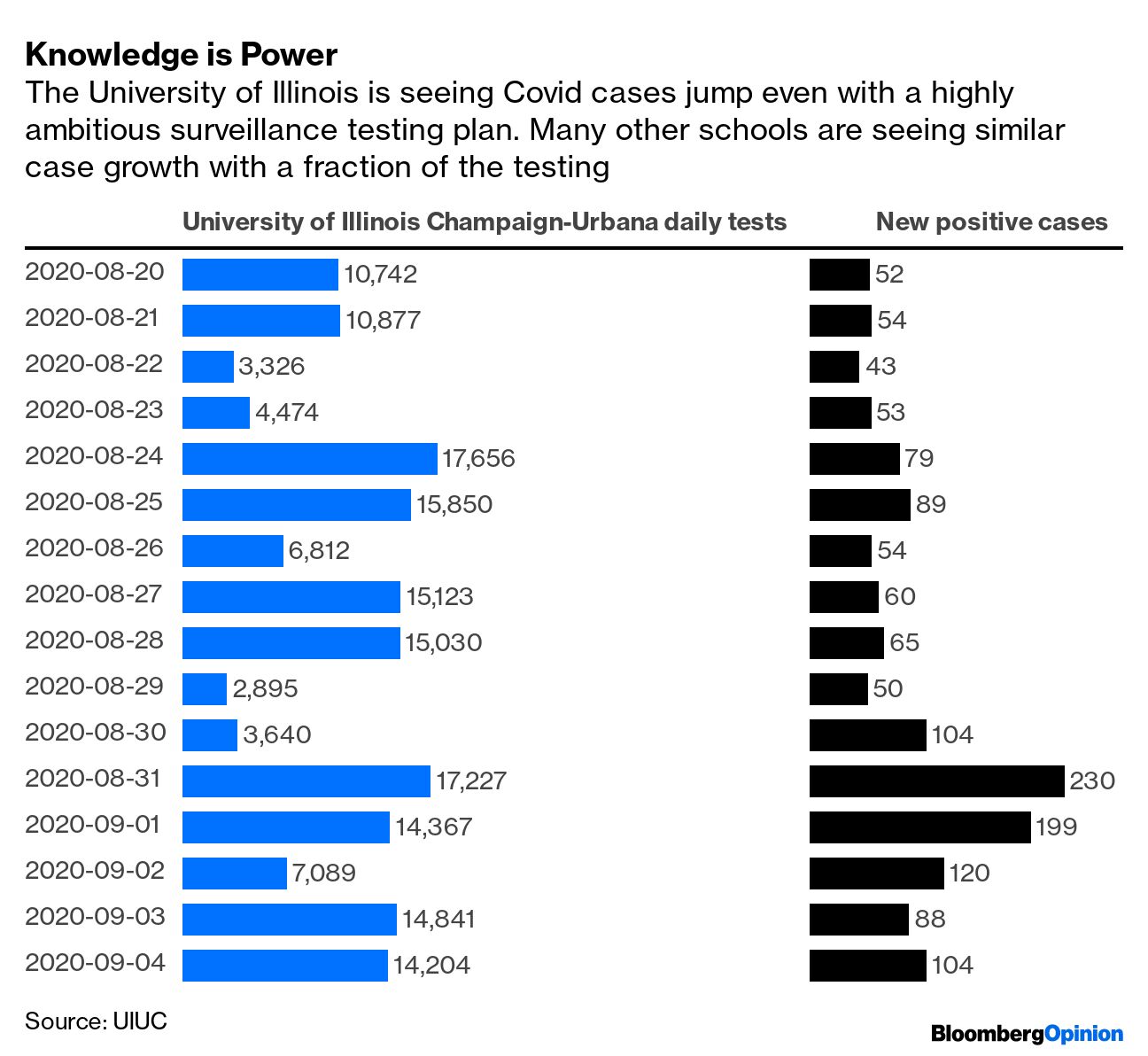 Meanwhile, the N95 mask shortage we suffered in March isn't much better in September, writes Joe Nocera. For some reason, Trump's government hasn't done what it takes to ramp up production and imports of this protective gear, so health-care workers are still putting themselves at risk by reusing old masks.
Drugmakers have at least spent these months well, taking big strides toward vaccines. They seemed to hit an impasse yesterday, when AstraZeneca halted late-stage trials of its candidate over health concerns. But those worries seem limited so far, and the temporary freeze suggests everybody's being appropriately careful, writes Max Nisen. It's how we should proceed if we want to make a safe, effective vaccine for wide distribution, which may be our best hope for not still living like this in March 2021.
Further Quest for Normalcy Reading: Weirdly, a vaccine could briefly shut down hiring while businesses and schools wait for new employees and kids to get vaccinated. — Karl Smith
Buffett's New Tricks
Everybody loves those "40 Under 40" or "30 Under 30" lists, I am told. But it's often just as interesting to see what people manage to accomplish beyond the wizened age of 41. Warren Buffett just turned 90, for example, and for only the second time in his storied career, he is investing in an IPO. And it's a technology company, Snowflake, which refers not to overly sensitive youngsters but to cloud computing. None of this has ever been Buffett's typical investment fare, write Tae Kim and Tara Lachapelle. But Buffett has the lingering pain of missing out on much of the Big Tech boom and a large pile of money to burn. It's never too late to change.
Brexit Turns Ugly
Divorces are almost always messy. Even when both parties try to keep it amicable, for the kids, somebody gets hurt feelings and starts acting out, and everybody ends up back in court, not to mention tears. The U.K. and Europe seemed to be on the way to at least a conscious uncoupling. But now Boris Johnson has blown everything up over one aspect of the separation agreement that would make it hard for the U.K. government to prop up national-champion companies. His threat to break international law and trash the agreement has made final Brexit negotiations needlessly hostile, Bloomberg's editorial board warns. For now, European officials are merely tweeting ominous Latin phrases at Britain, but the truly ominous prospect is that the U.K. crashes out of the EU without a trade deal. There are ways to avoid this catastrophe, writes Therese Raphael, though it's not entirely clear that's Johnson's goal.
Telltale Charts
LVMH Moet Hennessy Louis Vuitton Supreme Doritos Snowflake SE (three of those names may not be correct) has found some convenient excuses to call off its deal to buy Tiffany at $135 a share, probably with hopes of buying it cheaper later, writes Andrea Felsted. But it may not get a second chance.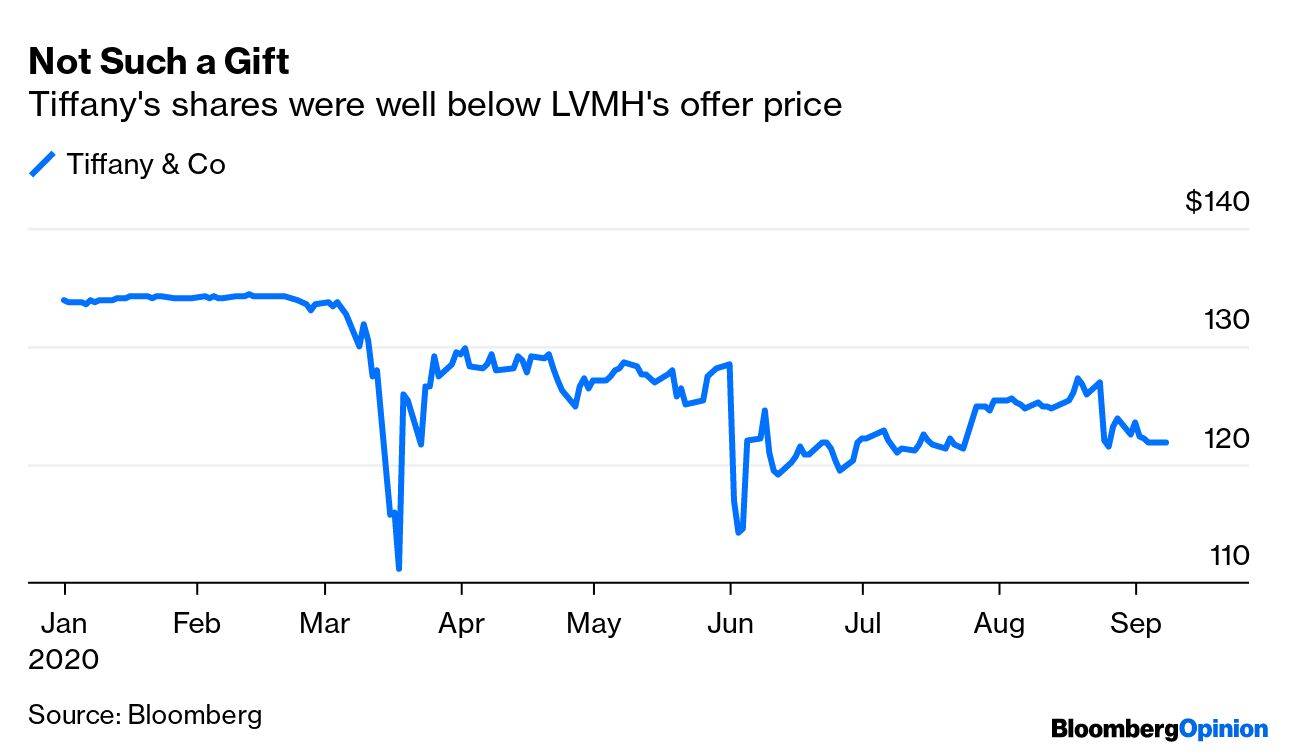 Further Reading
Trump using the Justice Department as his personal law firm to defend him in a defamation suit is just his latest effort to put himself above the law. — Noah Feldman
Now even GOP lawyer Ben Ginsberg agrees: Voter fraud is just not a big problem. — Jonathan Bernstein
Trump sounds like Noam Chomsky when he accuses the military of lusting for war. — Eli Lake
Soaring productivity is just a reflection of terrible economic news. — Michael R. Strain
The Fed's new framing of policy really doesn't matter; what's happening in the economy does. — Mervyn King
In Hong Kong and elsewhere, you can detect the rise of authoritarianism by changes in official language. — Clara Ferreira Marques
People should have the right to sue governments for the bad acts of cops. They have the money, after all. — Stephen Carter
ICYMI
Apple designed special masks for its employees.
"Mulan" became a headache for Disney.
California's skies are orange.
Kickers
The slowest concert in the world began 18 years ago and will end in 2640. (h/t Ellen Kominers)
Area man tries to kill fly, blows up part of his house. (h/t Scott Kominers)
The dwarf planet Ceres has a liquid saltwater reservoir.
How to log in to the student portal.
Note: Please send electric fly swatters and complaints to Mark Gongloff at mgongloff1@bloomberg.net.
Sign up here and follow us on Twitter and Facebook.
To contact the editor responsible for this story:
Stacey Shick at sshick@bloomberg.net