PUNE: The arrival of Maharashtra's first consignment of Covid-19 vaccines — seven lakh doses for priority groups — is now imminent.
State officials
said they are fully prepared for the mass vaccine drive that'll follow, but felt what should be a "cakewalk" for them has been weighed down by a heavy reliance on technology and process.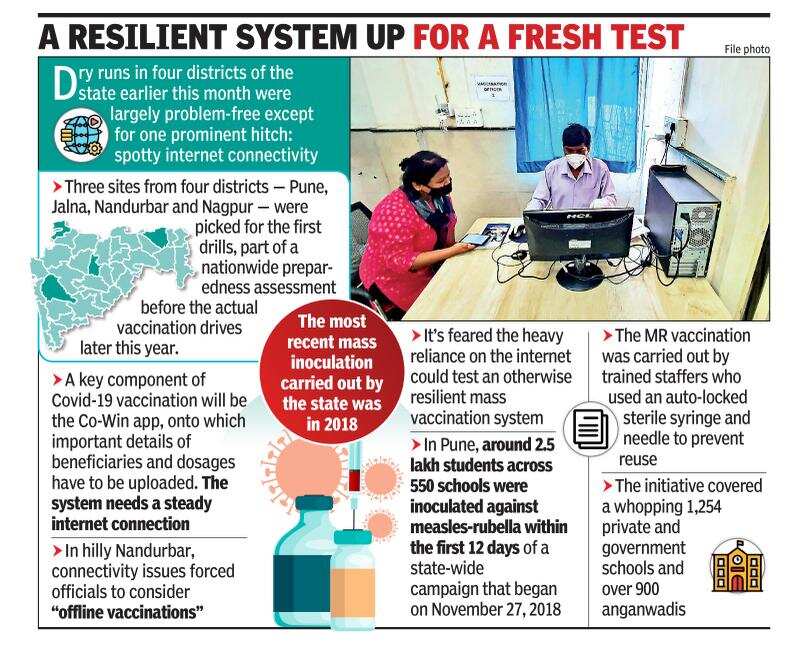 Mass vaccination is not a novelty for the state. Nearly three crore young children were vaccinated against measles within seven days a little over two years ago. Some five crore children were given oral drops against polio within a single day.
However, for Covid, the list of ancillary jobs that'll need a good communications signal is long. Officials at over 500 vaccination sites will have to verify beneficiary details, ensure texts are sent out to the right people and oversee data going into the CoWIN database. All this despite known challenges such as weak internet connectivity and phone-signal dropouts in remote regions.
"Record-keeping is key to every mass vaccination campaign. But an intensive use of technology makes the Covid drive a challenge," said public health expert Satish Pawar, additional director of the National Health Mission (NHM), Maharashtra.
Quite a few vaccination centres, during dry runs, reported glitches while operating the CoWIN app, which needs a steady internet link.
Some sites in Mumbai and other parts of the state found lags in the Aadhaar authentication process on CoWIN. In fact, most of the delays during the mock drills were caused by this process, officials said.
"We have to verify a beneficiary's Aadhaar and check if the name is enrolled on the app. We then have to administer the vaccine and update doses used," said Pune district civil surgeon Ashok Nandapurkar. There were other problems too. "During the dry runs, some states saw that beneficiaries had not received the SMS containing time and location supposed to be generated by the CoWIN system," said public health expert Subhash Salunke.
Besides the technology, monitors will have to ensure physical distancing at sites; that shots are being given as quickly as possible; adverse events are being recorded; and there's help available if a person needs some reassurance before vaccination.
"One centre will vaccinate 100 people per day. That means the vaccination of seven lakh health workers in the state should take 15 days," said Archana Patil, director of the state health department.