Decked in PPE kits and armed with safety precautions – Bollywood has got back to business and how! From shooting in exotic locations to setting up bio-bubble environments and following all the safety precautions – actors, directors, producers, technicians and the entire crew that brings a movie together is actively working towards churning out entertainment. B-town is determined to keep the ball rolling and indirectly boost the pandemic-hit economy too.
From stepping behind-the-scene of latest shoots to safety preps and first-hand accounts from technicians, actors, directors and producers – take a look at how Bollywood is resurrecting and taking the risk to keep the dice rolling in the new normal!
"Want to give the audiences the entertainment they have been starved off"
As soon as lockdown norms were eased, director Milap Zaveri rounded the team of 'Satyameva Jayate 2' and took off to Lucknow for the film's shoot. Adopting the new shoot protocols, the filmmaker reveals that everyone is maintaining social distancing when not shooting and constant sanitization takes place on the sets. He says, "It's very different in the sense that we have to follow each and every safety protocol with utmost sincerity and care. Have to always wear masks. Sanitise constantly. On set everything is sanitised from the equipment to the props. We maintain physical distance from each other while not in the shot. But I don't see these as challenges. I see them as the new normal and it's our duty to work like this henceforth to ensure the safety of the crew. So in a way it's a sense of responsibility that the entire unit develops." Despite all the extra efforts, Milap Zaveri is enjoying shooting for the action entertainer, which is being readied for release in 2021. "It's still exciting and fun to be on set and make a film! I'm very excited to finish the shoot of 'SMJ2'. Touchwood this time the film has twice the action,
dialoguebaazi, heroism and thrills compared to part 1! Looking forward to releasing it next Eid and giving the audiences the entertainment they have been starved off!"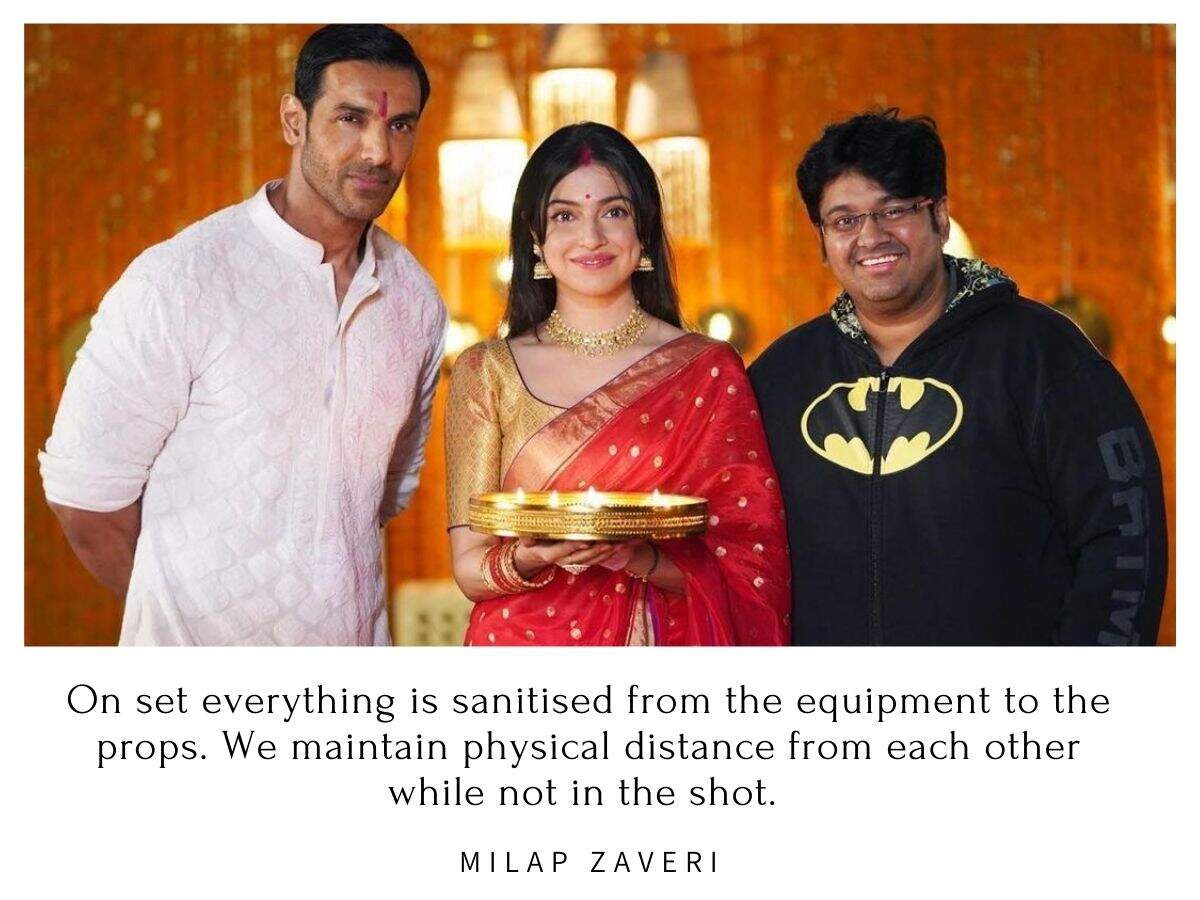 'Every time I enter the set, one person would sanitise me and my bags'
After a
big debut opposite Salman Khan in 'Dabangg 3', Saiee Manjrekar went on to sign up for a pivotal role in 'Major', helmed by Sashi Kiran Tikka. After being at home for more than a year because of the pandemic, Saiee was relieved to return to work but reveals that a feeling of fear looms large on the sets. "After eight months of being at home, going to work was one of the most relieving feelings in the world. But at the same time, there were so many things about going to work that had changed, the most important one being how everyone at every point in time was wearing a mask. There was this one person who was sanitising everything. Sanitisers were being distributed on the set. The main change that came about was in everyone's mentality. On a normal shoot day, people wouldn't be worried about touching anything, picking up a cup of chai or giving someone a high five. But after the lockdown, people have this thought at the back of their minds to be careful, not touch anything if they don't have to and sanitise their hands frequently. There's a little bit of fear that has set in but this is the new normal and we've to live with it." Sharing a first-hand account of her shoot experience in Hyderabad, Saiee revealed, "Every time I enter the set, there will be this one person who will be sanitising me and my bags and take down my temperature and these are the things that are being done for everyone who enters the set. This is very important, especially at a time like this, because a set entails a huge working environment where there's a larger crowd than at a normal office. It's very important for us to be safe because even if one person falls ill or is down with Covid-19, it could impact the whole crew."
'Bell Bottom' team shot with a dedicated paramedic on the set and had constant checks for oxygen level and temperature
Pandemic or no pandemic, Akshay Kumar is addicted to work and that's what he did throughout lockdown and hit the sets of a new film as soon as opportunity presented. Without wasting any time Khiladi Kumar jetted off to Scotland to shoot for his vintage style classic spy thriller 'Bell Bottom'. How does one achieve this you ask? Producer Jackky Bhagnani told ETimes, "It was very tough as the film was to be shot during the pandemic. But we took all the precautions – there was a paramedic 24×7 on the set, constant monitoring of blood level, temperature, oxygen levels etc for everyone along with maintaining social distancing norms. Our shoot began only after everyone was tested negative for COVID-19. Even in Glasgow, the whole team's COVID test was done every week during the entire stay of shoot. The team had a separate cook, and even local team stayed at the hotel rather than their homes which kept it all safe and smooth, the entire course. I am extremely grateful for the support from the whole team." 'Bell Bottom' is the first film in the world to have started and completed its shoot during the pandemic.
"Precaution is the only real cure right now"
Salman Khan, who stayed away from Mumbai for months during lockdown, returned to face the camera with great enthusiasm. The actor is not just shooting for his TV show, but also resumed work on his next biggie 'Radhe: Your Most Wanted Bhai', after nearly seven months. Atul Agnihotri, who is a co-producer on the venture, told ETimes, "It's wonderful, work is slowly getting back to normal. Precaution is the only real cure right now and thankfully all the new safety norms are working well." A dedicated medical team was reportedly present on the sets all the time as the crew of 'Radhe' ensured all Standard Operating Procedures (SOP) advised by the government were being followed.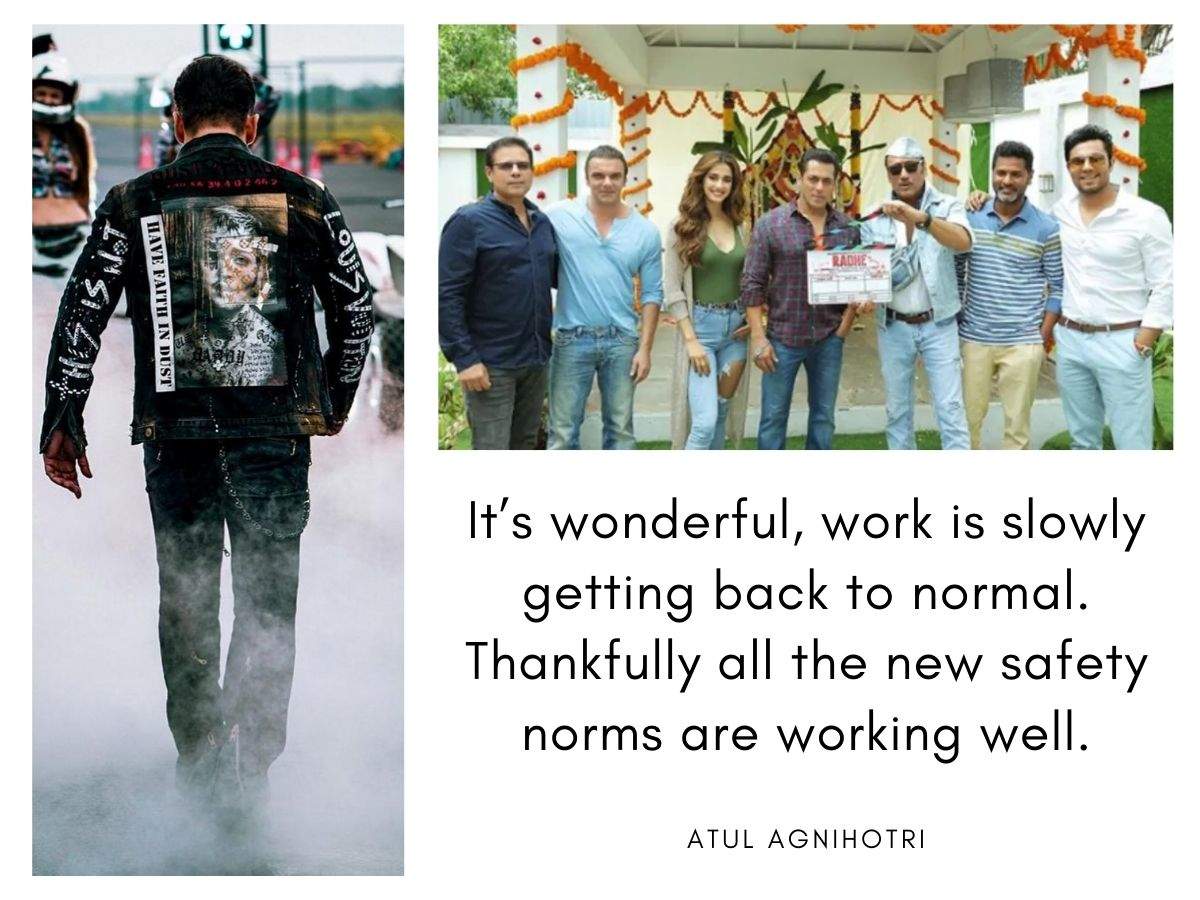 Anees Bazmee had been shooting for Kartik Aaryan and Kiara Advani starrer 'Bhool Bhulaiyaa 2' in Lucknow earlier this year. He wrapped the schedule in March, just when the health scare hit India and the lockdown was announced. Excited to return to sets this month the filmmaker shared, "I am a very optimistic person and I don't think anything beyond films, it is my passion. Once the industry gets into action, we can also start shooting. I am hopeful that the earlier we start working, the better but there are difficulties. We cannot survive without it. We will keep the rules and regulations in mind and start shooting. On our last shoot there were around 400 people but now we will have to stick to a minimum number. To call fewer people, we have the reason that it is not our decision but the government's rule." Kartik and Kiara will be shooting for 'Bhool Bhulaiyaa 2' in Mumbai and Lucknow, confirmed Anees Bazmee.
Shah Rukh Khan, who didn't announce or commence his next venture for two years, finally started shooting amidst the pandemic. His action entertainer 'Pathan', which is directed by Siddharth Anand', went on floors recently. SRK sports long locks for the film and will reunite with Deepika Padukone as his leading lady. Taapsee Pannu also wrapped a schedule of her next film 'Rashmi Rocket' and had shared several glimpse from the race track as she prepped for her role of an athlete.
'I used to get tested once in 2 weeks and that could be a bit annoying'
It is after a long gap that Divya Khosla Kumar returns to face the camera as a leading lady with 'Satyameva Jayate 2'. Describing her shoot experience Divya shares, "It was quite a different feeling shooting during the pandemic, and sometimes the safety measures could be a bit annoying. I used to get tested once in 2 weeks and that could be a bit tedious but I'd rather be safe than sorry. You also have to constantly be on your guard and be mindful about washing hands, sanitizing and social distancing. And there is a bit of fear as well. I've been wearing the mask at all times and only taking it off for my shot. My staff, the hair and makeup crew and rest of the people on set are also constantly tested."
Taking the new normal in her stride, Divya also celebrated her birthday on the sets with her team. "It was extremely safe as we had all been constantly getting tested. All of us were together, John Abraham, Milap Zaveri, and it was a wonderful experience to cut the cake with my whole cast and crew. They say that if you work on your birthday you end up working throughout the year and that's great for me as I am a workaholic." Divya recounted that around 30 people in her office had tested positive for the virus but soon recovered after the mild bout.
And it is not just the actors, producers and directors who are up in arms against the novel virus, but technicians, stylists, choreographers and make-up artists are also adopting new ways. Popular make-up artist Pompy Hans started working two months back and has adapted to the new normal of PPE kits and constant Covid tests. He told ETimes, "We are wearing a mask and PPE suits all the time. We are also cleaning our hands and doing the Covid test one day before every shoot. Since I work in such close proximity with the actresses, I have to do the test. Mostly I am working with Kareena and she is pregnant, so I am taking a lot of precaution. This is the new normal and it has settled in the mind. It is a little extra but now I am used to it."
Tara Sutaria's stylist Meagan Concessio expresses that while it was a bit difficult to start work post the lockdown, she has got used to working with a smaller team and has realized that she can independently wrap up a lot of work. "It was initially a bit scary but I am happy to do the tests so that you know that everybody is safe. I have done like over 10-12 tests, it is uncomfortable but when you look at the bigger picture it is a necessity. I couldn't have a big team like I am used to working, but I realized that smaller teams, lesser access makes you work harder and think of more efficient ways to do things," shares Meagan.
And while Bollywood movies have gone on floors with a lot of gung-ho, shooting those oh-so-glamorous songs is still distant. Coordinator for background dancers Raj Surani shares, "
Big movies have gone on floors but the songs will be shot only later, probably when the vaccine is here. I am working on 'Brahmastra' but the film's song will only be shot next year. Otherwise we are mostly working on albums. I am shooting in Mumbai for an album with Tiger Shroff and Badshah. We have only called around 15-20 dancers and they have to compulsorily do a Covid test. Once they have tested negative, we begin with the rehearsals."
Bollywood is determined to entertain fans in a
big way in 2021, hoping to make up to the audience for all that was missed in 2020. Come January and entertainment will be rolled out on the
big screen, from Akshay Kumar's 'Bell Bottom' to Salman Khan's 'Radhe' and Shah Rukh Khan's 'Pathan' – next year holds a lot of hope for moviemakers and film enthusiasts.