The word 'Ikat' means to bind in Indonesian and it officially figured in the European textile lingo sometime in early 20th century, when visiting scholars began to study the rich textiles of SouthEast Asia. The unique fabric features a trademark resist dyeing technique, where yarns are jumbled together and dyed in various hues and then woven together. Well, it may be known to mankind since ages, but it has made a comeback recently, thanks to the perseverance of many Indian designers and endorsements by Indian film stars.
Designer Gautam Gupta of 'Asha Gautam' duo has worked extensively with ikat and is almost an authority on the subject. We had an exclusive chit-chat with him over what makes Ikat so versatile and popular and this is what he had to say.
The comeback of ikat


We ask Gautam about the sudden comeback of ikat, and he explains how the fabric has gained popularity for being very easy to work with, "Ikat comes in two forms i.e. single ikat and double ikat. Single ikat is used more not only in apparels but in lifestyle industry i.e. interiors, accessories and even in furniture. Collaborations between designers and weavers has given it a new color palette, patterns, placement and this enables it to connect with even millennials. Ikat is not just used as a sari but in fusion and even western wear. A geometrical pattern which is one of the characters of the fabric itself makes it very friendly to play with."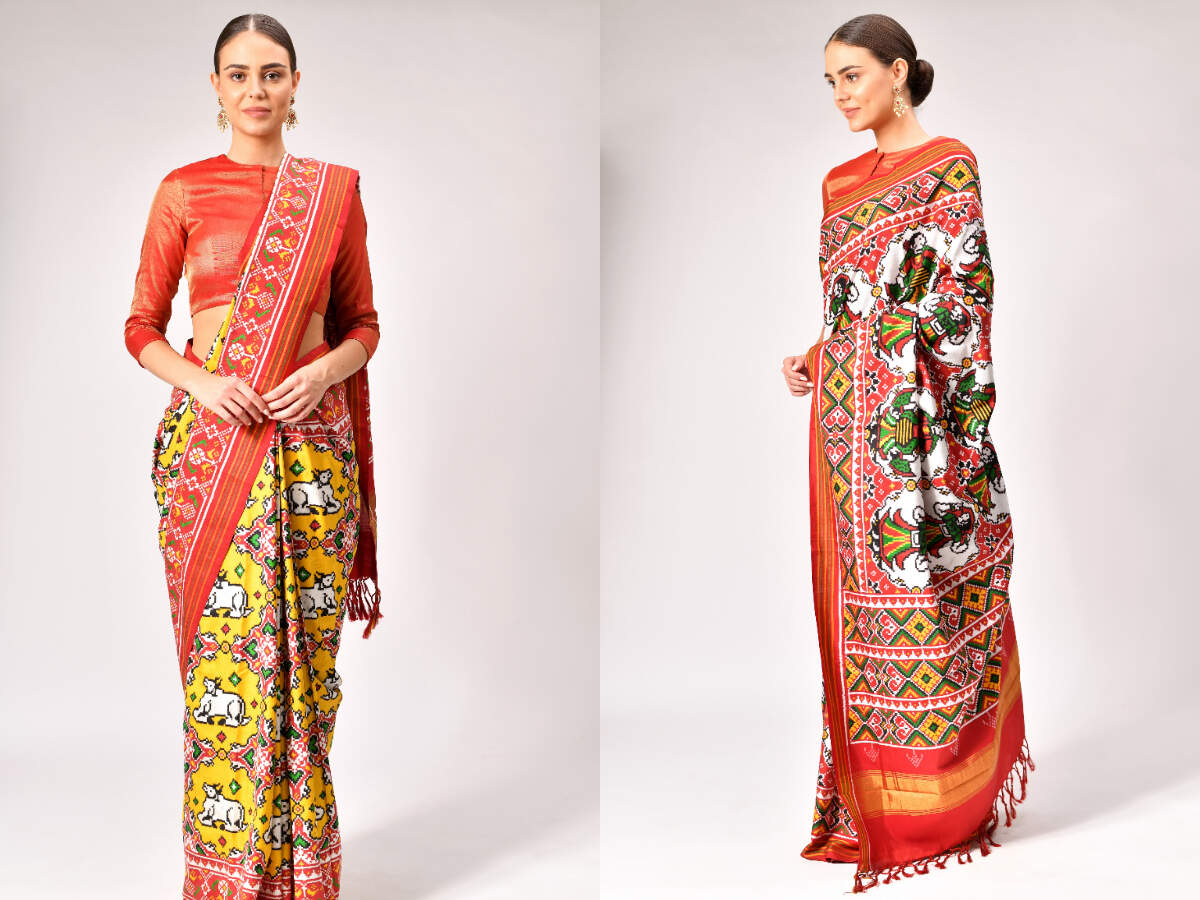 (Ikat saris by Asha and Gautam)


Foraying into luxury clothing


Well, being a friendly fabric does not mean it can't be used in luxury clothing. Double ikat is expensive and takes almost 6 months to a year to make and also has limitations in terms of designs. According to Gautam, it is used more as a signature piece. This is why possessing a double ikat sari is considered to be equivalent to having a couture piece with the former having an advantage of being a classic. "In the past four years, we have worked a lot more on double ikat and created different patterns in double ikat as well which got a positive response. The exclusive nature of double ikat makes it a luxury and this is why we see the surge," adds the designer.
The growing demand for ikat


Javed Anwar, a trader from Asia's biggest readymade garments/textile market, Gandhi Nagar is surprised at the sudden interest in the fabric. "We stopped stalking it some years ago, but have re-stocked it now, thanks to hundreds of inquiries that we get on a daily basis," claims the trader.
Javed caters to some of the very popular designers in the city and credits Bollywood stars for making the fabric so popular. "All actresses are wearing the fabric and local tailors are producing Bollywood replicas regularly, that explains the popularity," he adds.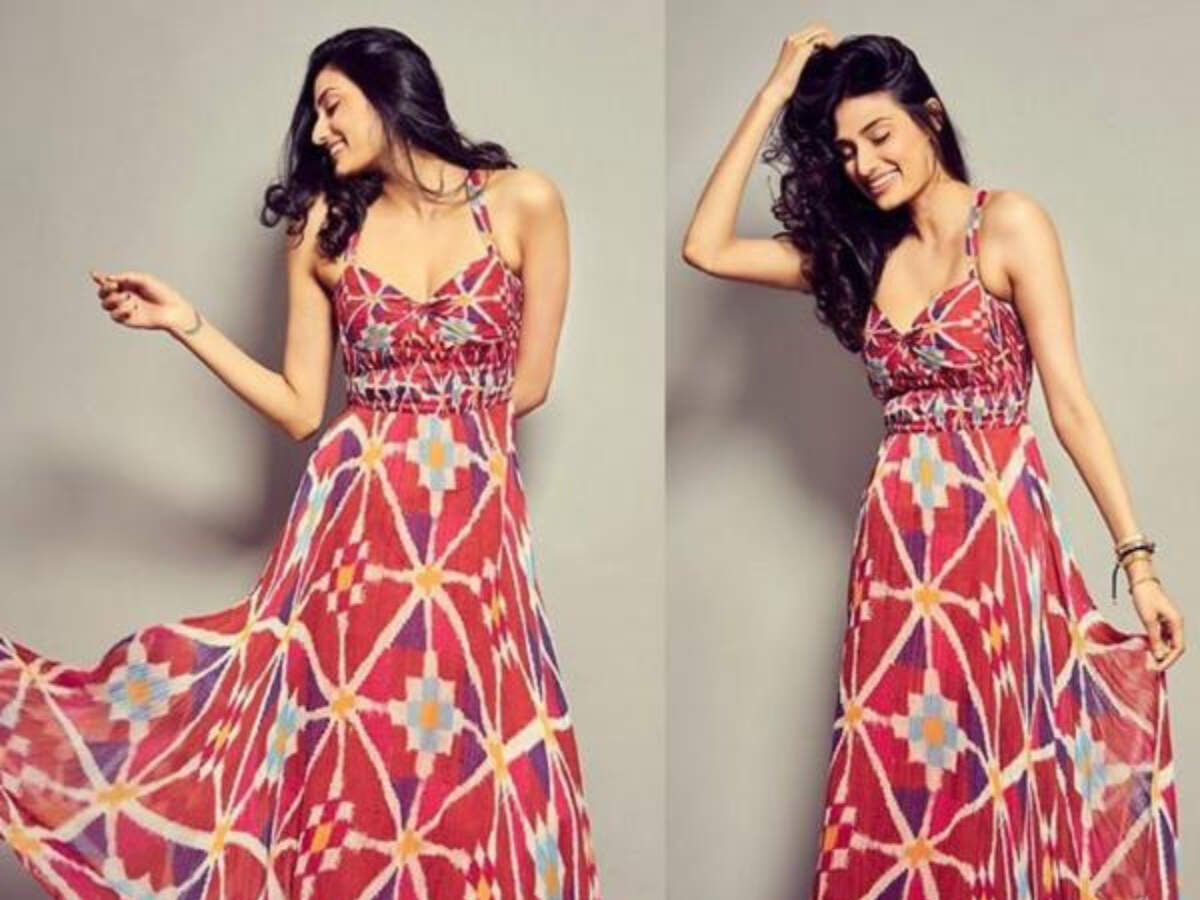 (Athiya Shetty's ikat maxi dress by Saaksha & Kinni)
Bollywood has contributed to the ikat revolution Gautam agrees with Javed when he says, "From Sonam Kapoor's oversized printed ikat dress to Deepika Padukone ikat sari and Alia Bhatt's ikat dress – all the divas have made fashion statements wearing ikat. One cannot ignore the influence of Indian actors on fashion and ikat has been promoted periodically by them."
"Demand for both single and double ikat is good and expected to get better with design intervention and expansion of its utilisation. When we work with weavers and try to create something different we see an escalating demand for ikat. Consumers want something different or something affordable so one has to serve either," adds Gautam.
Designers are experimenting with the fabric


From Abraham and Thakore, who worked with the double ikat fabric for a collection way back in 1992 to other popular names like Rajesh Pratap Singh, Anita Dongre, Madhu Jain and Tarun Tahiliani, Indian designers are playing with the fabric like never before. From designing saris to lehengas, shirts to making accessories with the versatile fabric, they have uplifted the fabric to a level that it can't be dethroned now.
Designer Madhu Jain has been tagged as 'the first lady of Ikat' for her elaborate work with the fabric, in fact she also introduced the world to Bamboo Silk Ikat. The new textile, which is the result of 14 years of hard work and extensive research done by the legendary designer.
The future is bright


Gautam feels the future of the fabric is very bright as by nature it looks contemporary and there is no other weave or craft which blends into the new age fashion so well.
"Ikat will always have a strong presence in global fashion. It will be used in different ways to interpret designers' thoughts. From weaving to print the art is irresistible," signs off Gautam.