HYDERABAD: Amid the Covid-19 crisis, Hyderabad emerged as the most resilient city in India by adding 3.7 million square feet (sft) of office supply to its stable between January and June 2020 – 30% of the country's share.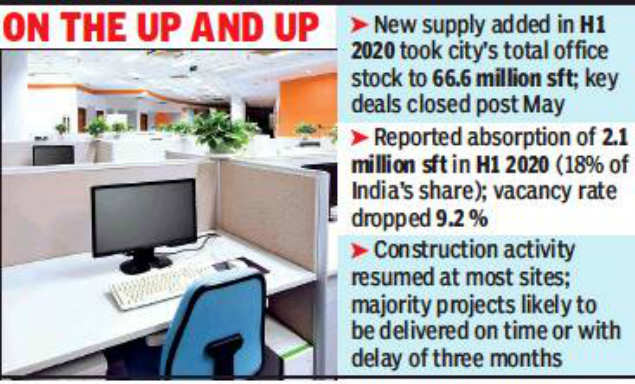 The Telangana capital also beat other metros by recording the lowest unsold inventory of homes that can be cleared in the next two years. Its competitors will take at least four to five years, indicated the JLL-CII report on Hyderabad's real estate sector, released on Friday.
"The city led India's office supply in H1 2020. This indicates Hyderabad's flourishing business environment," the report stated attributing the significant growth to the influx of global technology and pharmaceutical giants into Hyderabad.
Acknowledging the city's dynamic realty growth – it also bagged the top spot in JLL's City Momentum Index for the second time after 2018 — Telangana IT and industries minister K T Rama Rao said that this was fuelled by the move of major firms such as Novartis and Medtronic, among others, to set up large bases in Hyderabad. He assured that the government will continue to invest heavily in the city's infrastructure to further propel the growth of the sector. Going forward, he urged developers to focus on two things: higher standards and local talent pool.
"While outside players are always welcome, I want our local developers to raise the bar in terms of design, quality, worker welfare etc," the minister said, speaking at the virtual launch. He added: "It's a paradox that while skilled and semi-skilled workers from Hyderabad are the mainstay in the Middle East, we rely on workforce from other states. The industry must look at this and accommodate local youth."
Property market on 'steady path'
Apart from commercial success, Hyderabad clocked high numbers in the residential market too, the report stated. It stood only second to Bengaluru in the count of new launches between April and June 2020.
"The focus of the state government on businessfriendly policies has helped Hyderabad emerge as one of the leaders despite the global pandemic," said Sandip Patnaik, managing director (Hyderabad), JLL. Despite issues of labour and liquidity, C Sekhar Reddy, convenor (Infra & Real Estate Panel), CII-Telangana maintained that the city's property market is on a steady path.