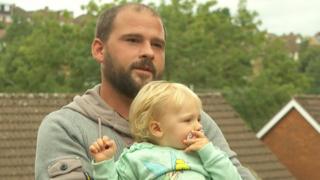 Ministers have extended the ban on landlords evicting tenants in England until 20 September, following warnings that thousands could lose their homes.
From Monday, courts were due to resume cases paused for five months owing to the coronavirus crisis, under stricter rules.
Now they will remain on hold for a further four weeks.
Labour leader Sir Keir Starmer described the move as an "11th hour u-turn".
In a letter to judges, Master of the Rolls Sir Terence Etherton said that, having expected the end of the ban on Sunday, the proposal had been of "an extremely unusual nature and timing" but would allow further work to be done to prepare for the ban to be lifted.
One landlords' group described the move as "unacceptable".
How evictions work
Tenants get a minimum of three months' notice of eviction in England and six months in Wales, until at least 30 September, compared with two months before the coronavirus outbreak.
Only after this notice period is up could courts theoretically hear a case. In England and Wales, eviction notices have been served but court decisions have been put on hold for the past five months.
The government is now planning for courts to resume hearing cases on 20 September.
In Scotland, a six-month notice period is proposed to be extended to March, subject to approval by the Scottish Parliament. Laws in Northern Ireland include a 12-week notice period.
'Very worrying'
David Batchelder, 35, was laid off from his job in pest control at the start of lockdown and is typical of tenants struggling with their finances owing to the economic fall-out of the pandemic.
He lives in a flat in High Wycombe with his partner, who works as a building company receptionist, and at the moment is a stay-at-home dad to one-year-old daughter Miley.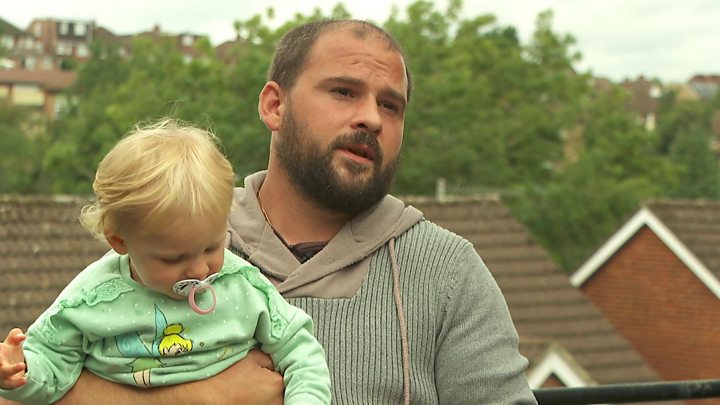 The fall in income and reliance on benefits means he is worried about the future.
"In all honesty, [benefits] are not enough and just do not cover everything," he said.
"In difficult times there is a possibility that we could end up losing our home. We would like to know that we've got somewhere secure.
"The landlords have been very good so far, but they can only do so much. And if there was another coronavirus wave, it will be very worrying as to what might happen."
A survey by homelessness charity Shelter suggested that more than 170,000 private tenants have been threatened with eviction by their landlord or letting agent, and 230,000 in England have fallen into arrears since the pandemic started.
Polly Neate, Shelter's chief executive, said: "It is right for the government not to lift the ban when it risks exposing people to eviction and the threat of homelessness with no means of defence.
"The government must use this short window of time wisely to put proper safeguards in place for renters."
Health bodies had warned that homelessness or moves to overcrowded accommodation could risk higher numbers of Covid-19 infections.
Politicians have called for more than the latest extension to the ban.
Labour's leader, Mr Starmer, said "such a brief extension means there is a real risk that this will simply give renters a few more weeks to pack their bags".
He said Prime Minister Boris Johnson has "stuck his head in the sand" for months, adding: "The ban should not be lifted until the government has a credible plan to ensure that no-one loses their home as a result of coronavirus."
The former Conservative Communities Secretary, Lord Pickles, told BBC Radio 4's World at One that the ban should be extended into next Spring.
He said "periodic" extensions were "pointless" without further legislative action to give tenants more security.
'Action needed'
Lawyers and landlords' groups have said that, even after a ban expires, there is little expectation of people who have faced Covid-related financial problems being swiftly told to leave properties.
Ben Beadle, chief executive of the National Residential Landlords Association, said: "A blanket extension is unacceptable, especially so close to the deadline."
In Wales, tenants who have fallen into arrears are being aided with a saving scheme.
Landlord groups have called for more help in England to reduce the financial pressures on landlords, in addition to mortgage holidays.
---
Advice for tenants
Anyone under threat of eviction should start gathering evidence such as receipts for rent paid or any communications with your landlord
Landlords have to give you notice before they can apply to court for a possession order. For most tenancy types this notice must now be at least three months in England or six in Wales, but lodgers may get less notice
If a possession order had already been made against you before 27 March 2020, then your landlord may apply for this to be enforced when the ban comes to an end. You should receive 14 days' notice of the eviction date
Anyone now struggling to pay rent should speak to their landlord, and organise a repayment plan to pay off arrears
Those receiving housing benefit or Universal Credit and unable to pay rent might be able to get a discretionary housing payment from the local council
Source: Citizens Advice
Are you worried about being evicted when the ban is lifted? Or are you a landlord? Share your views and experiences by emailing haveyoursay@bbc.co.uk
In some cases your comments will be published, displaying your name, age and location as you provide it, unless you state otherwise. Your contact details will never be published. Please ensure you have read our terms & conditions and privacy policy.
Please include a contact number if you are willing to speak to a BBC journalist. You can also get in touch in the following ways: