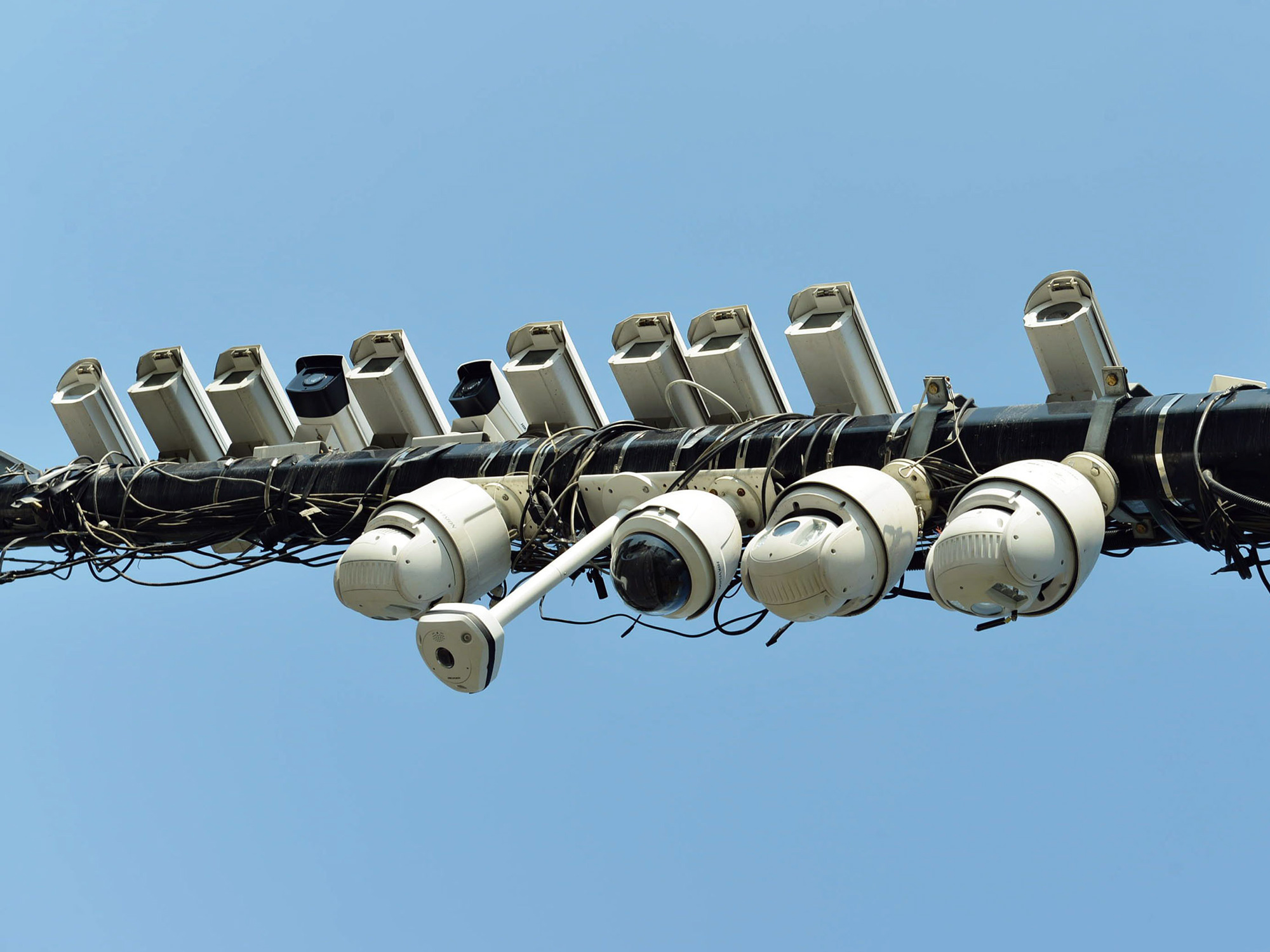 With their hands tied by the U.S. war on Beijing's big tech ambitions, China's surveillance giants are trying to recreate themselves as something less threatening. Can they? Investors seem to think so, but it will be harder than it seems. 
The stock prices of Hangzhou Hikvision Digital Technology Co. and Zhejiang Dahua Technology Co., which dominate the market for surveillance cameras, are up around 25% over the past six months. Investors haven't been fazed by the Trump administration's attempts to shut them out of procurement by U.S. government agencies. Nor by the fact that a significant number of components have been effectively cut off by U.S. restrictions on suppliers. 
In June, the Pentagon put out a list of 20 companies that it says are owned, controlled by, or affiliated with the Chinese military, government or defense industry. On it are the likes of Hikvision and Huawei Technologies Co. A month earlier, the Commerce Department added two dozen Chinese companies to its entity list that restricts export, re-export, or in-country transfer of items subject to the firms. Last year, Washington put eight Chinese businesses, including Hikvision and Dahua, on a blacklist that accused them of being implicated in human rights violations against Muslim minorities in Xinjiang. Hikvision has denied inappropriate actions.  
The risk looms of the net widening further, whether Donald Trump remains U.S. president or not. The companies are trying to steer clear. Hikvision's management said recently, "We are no longer just about security and we will continue to evolve and define ourselves." That was a first, Sanford C. Bernstein & Co. analysts noted. But Hikvision's 24% global market share has become a trap. The company is stockpiling parts at almost almost three times standard inventory levels because of restrictions on Shenzhen-based HiSilicon Technologies Co., which supplies almost 70% of the chip sets used in surveillance cameras made by Dahua and Hikvision, according to CLSA Ltd. analysts. 
There are, in theory, alternatives for the parts curbed due to the U.S.–China tech spat.  Small, unlisted companies like China's Unisoc (Shanghai) Technologies Co. and Sigmastar Technology Corp. could step in, but that will take time. Hikvision said last year that it has a plan to fully replace American parts in its products.
Meanwhile, Beijing is going full throttle on its new infrastructure push. With government largesse behind them,  firms like Hikvision have been boosting their so-called enterprise solutions — artificial intelligence and other such offerings for companies, rather than lucrative, steady public security and governmental services and contracts. In its 2019 annual report, Hikvision said that it was making "substantial breakthroughs in non-security businesses." Controversy and now Covid-19 have crimped that cash flow. Still its largest segment, public security shrank 5% in the first half of 2020. The enterprise segment that helps industries with everything from smart construction sites to AI-enabled livestock tracking systems grew 20%.
But investors should wonder: Even if it weathers the current environment, can Hikvision make the transition to a new-tech company? Despite growth slowing for its public business, Hikvision still leans on Beijing. Subsidies included in profit-and-loss statements grew 73% in 2018 and a further 30% last year, to 413.8 million yuan ($61 million), and added 215 million yuan more in the first half of 2020. Value-added-tax rebates, refunds and the like came in at nearly 1 billion yuan in the first half, after receiving 1.9 billion yuan in 2019.
The company commands fat margins: upward of 40% on a gross basis. The overseas business and Hikvision's thermal products help, but face growing backlash and are increasingly shut out. The gain on equipment is over 50%, while newer segments – like smart homes and other "innovative" areas — are closer to 39% and 17%. Robotics is lucrative but still small. A change or shift of business will put these at risk as the costs go up.
Hikvision is going big on research and development "to address increasing uncertainties." It had 19,065 engineers, almost half of its total headcount, in 2019, up almost 20% from the year before. Spending rose 22% to 5.5 billion yuan last year, almost 10% of total sales, and reached 3.06 billion yuan in the first half. Going by its big plans, the company will have to keep that up. Even with some offsetting subsidies, morphing into a high-tech company at scale is expensive. The tech Cold War isn't leaving it much choice.
To contact the editor responsible for this story:
Patrick McDowell at pmcdowell10@bloomberg.net