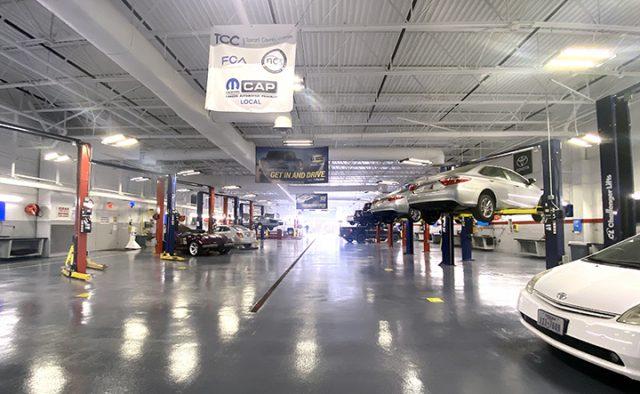 Walking into the South Campus automotive lab, one is met with bright lights, a sleek gray and silver interior, high-tech equipment and rows of vehicles. Surrounding it are classrooms full of car parts, and outside is a fleet of practice cars.
"The automotive program is something of a little-known secret that has been in existence for over 40 years," South instructor and auto department coordinator Justin Ferreira said.
The program lays the foundation for students to enter the automotive field, South automotive service technology instructor Orlando Grijalva said. Classrooms are more than just chairs and desks — they become workshops where students can work on real car parts hands-on.
The program is certified by the National Automotive Technicians Education Foundation. Its eight areas of study cover engine repair and performance, automatic and manual transmissions, steering and suspension, brakes, automotive electrical systems and heating and air conditioning. Students are taught on all current vehicle operating systems and have the opportunity to receive a college degree rather than just a certificate.
In addition to mechanics, they learn about the ethics and responsibilities automotive technicians must uphold, Grijalva said. Because individuals' lives depend on a vehicle's mechanical condition, technicians must ensure any car is safe to operate. Responsibility and honesty are crucial.
"We hope when they leave here they are ready to join today's job market," Ferreira said.
The program can benefit more than just the future automotive technician. The do-it-yourselfer and the everyday consumer can take away valuable skills as well, South automotive service technology instructor Tony Edwards said.
"Students receive general textbook learning, lots of hands-on experience and they have access to several different manufacturer's technician training curricula," he said.
Some individuals go on to become automotive technicians after completing the program. Others become service advisers, business owners or do insurance claims, Grijalva said.
"Many simply use their newfound knowledge to save themselves tons of money in car repairs by doing the repairs themselves," Edwards said.
The program continues during the age of COVID-19 but has undergone some changes.
After a short period of virtual learning came the realization that the hands-off approach wasn't going to cut it, Ferreira said. In January, in-person classes returned.
"You can only talk about the subject for so long," Grijalva said. "It has to come a point where you have to have hands-on training and experience."
Ferreira said rallying together in the wake of the shutdown was a memorable experience.
"It was amazing how we could all be at our own homes and still work together so well to help each other out however possible," he said.
Class sizes are smaller now and heed CDC and college guidelines. This means taking temperatures, wearing face masks, social distancing and sanitizing classrooms.
"I personally have enjoyed the current classes because we are covering more material while getting more one-on-one time with students," Ferreira said.
While he has only been in the program for just over two years, the comradery he's experienced, and the willingness everyone has to help one another, have been amazing, he said.
"We have some great leaders in place and I think it will only get better," he said.