In the most recent September Enterprise Technology Research spending survey, chief information officers expect a slight sequential improvement in fourth-quarter spending relative to the third quarter – but still down 4% from a year ago. So the picture is still not pretty but not bleak either. Firms are adjusting to the "new abnormal" and are taking positive actions that can be described as a slow thawing of the deep freeze.
In this Breaking Analysis we will review fresh survey data from ETR and provide our outlook for both the fourth quarter of 2020 and into 2021.
We are still holding at our 4% to 5% decline in tech spending for 2020. We do see light at the end of the tunnel – but with cautions.
Specifically, more than 1,000 CIOs and information technology buyers surveyed expect tech spending to show a slight upward trend of roughly 2% in 2021. This is off a Q4 decline of 4% relative to Q4 2019 but a slightly "less worse" decline sequentially. Last quarter we saw a 5% decline in spend. So it's generally more of the same, but things are improving.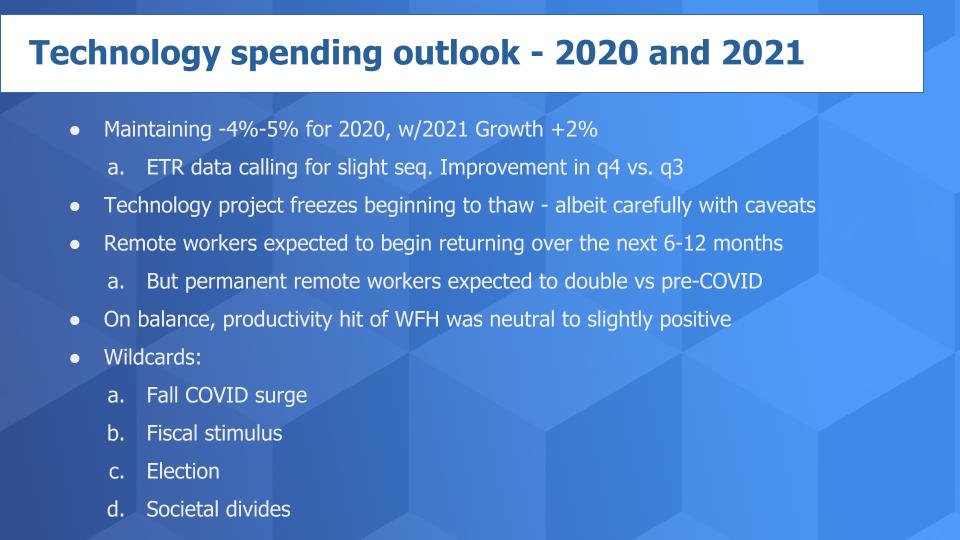 In particular, we'll show data that suggests technology project freezes are thawing slowly. We see remote workers returning at a fairly significant rate, but executives expect the percentage of employees working remote to double over the mid-term, suggesting that the work-from-home trend is not cyclical but showing signs of permanence.
And why not? CIOs report that on balance, productivity has been maintained or even improved during COVID.
Of course all of this has to be framed in the context of the unknowns such as the fall COVID surge, fiscal policy, election uncertainty and social unrest.
CIOs expect slow improvement into 2021
Let's dig into some of the specifics of the ETR data. This was predominantly a U.S.-based survey – 80% U.S. — and weighted to the big spenders in larger organizations, with a nice representation across industries.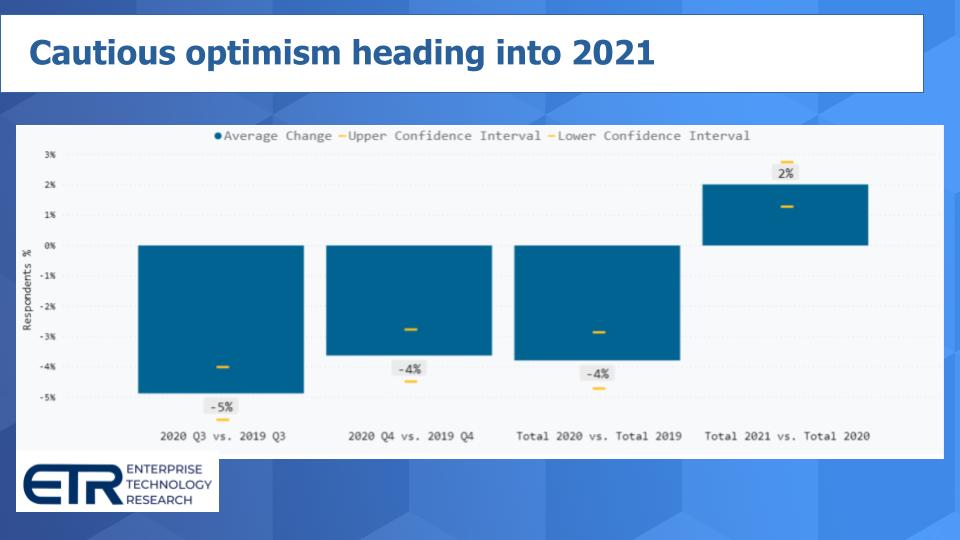 So you can see here the slow progression of improvement relative to Q3, which as we said was down 5% year-on-year, with a 4% decline expected in Q4. ETR is calling for a roughly 4% decline for the year. We have consistently forecast a decline of 4% to 5% for 2020 and agree with that outlook.
And you can see that CIOs are planning for a 2% uptick in 2021. In our view this represents some prudent caution and I think there is upside there – but this is a good planning assumption for the market overall.
Rays of hope in the survey data
You can see here that organizations are slowly releasing the grip on tech spending overall — still no material change in employees working from home or traveling. But you can see that hiring freezes are down, as are new IT deployment freezes. And there's a slight uptick in acceleration of new deployments. As well, fewer companies are planning layoffs and, while small, the percentage of companies adding headcount has doubled from last quarter's minimal number.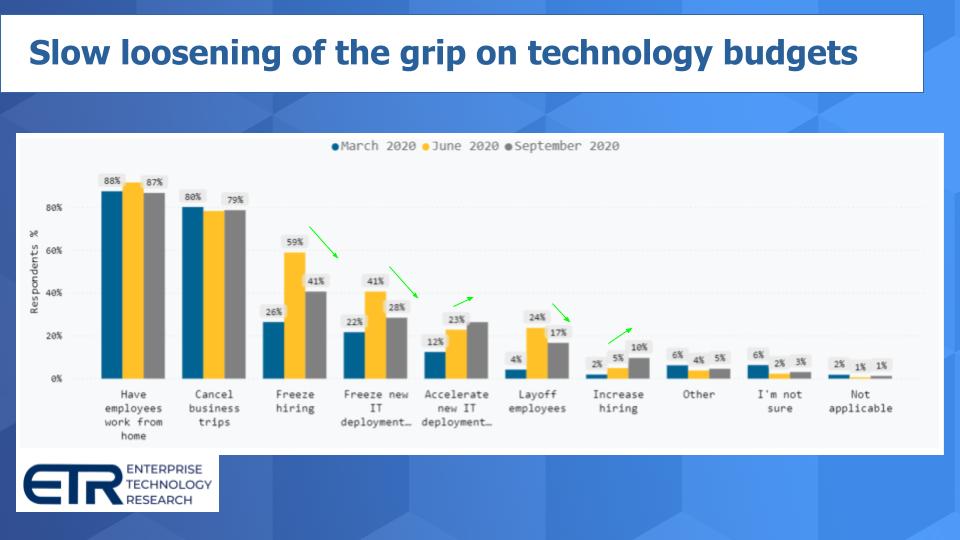 This is based on the end-of-summer sentiment. So let's be cautious. And we think CIOs are being cautious on their projections of 2% growth in 2021. Remember that doesn't get us back to 2019 spending levels. So we may see a long slow climb out of this. Perhaps 2022 gets back over 2019 before we see sustained growth again. And remember, these recoveries are rarely smooth, straight lines, so expect some choppiness with many pockets of opportunity.
CIO technology priorities
This chart shows the ratings based on a seven-point scale of the top spending initiatives heading into year-end.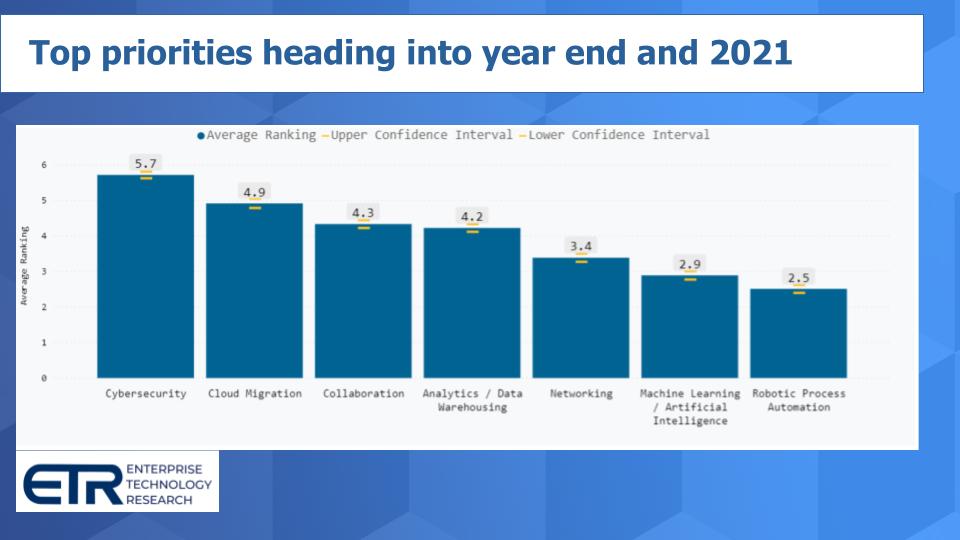 We have been saying for the better part of a decade that cybersecurity is a do-over. We've joked that if it ain't broke, don't fix it. Well, COVID broke everything and cyber is an area that is seeing long-term change in our view. Endpoint security, identity access management, cloud security and security-as-a-service are all trends seeing major tailwinds as a result of COVID. And it's coming at the expense of large installed bases of things such as traditional hardware-based firewalls.
Cloud migration is interesting but we think it needs some interpretation. We would suggest this includes things like: "I have a bunch of people answering phones in offices and overnight the offices are closed. So I need a cloud-based solution." In this example, the organization didn't lift and shift its phone routing system from the office to the cloud, rather it pivoted to a cloud solution. We think that would be included in these responses.
Now we do know, for example, one insurance company that migrated its claims application to the cloud during COVID, but this was something that was in planning before COVID. The point is twofold: Migrations are hairy and we think this category means "I'm increasing my use of the cloud."
Collaboration? No shocker there. Just look at Zoom Inc.'s growth.
Analytics is really interesting. We've been extensively covering Snowflake Inc. and have pointed out that there's a new workload that has emerged in the cloud and it relates to a data layer that's easy to set up and access, with requisite governance and security. This market is exploding, with artificial intelligence layered on top of the data at scale in the cloud.
As for networking, traffic patterns changed overnight. Distributed denial-of-service attacks are up 25% to 40% since COVID. Cyberattacks overall are up 400% this year. So these all have impacts on the network.
Regarding, machine learning and AI, organizations are realizing that infusing AI into applications is becoming more more important especially as the automation mandate becomes more acute.
Which leads us to robotic process automation. Now, you might think that RPA is of a higher priority, but we think what's happening is that IT organizations were scrambling to plug holes in the dike, whereas RPA is more strategic.
Our data suggests that RPA remains one of the most elevated spending categories in terms of Net Score – meaning way more people are spending more than spending less so this category has lots of legs. In fact, with the exception of container orchestration, we think RPA is a sector with the highest Net Score — higher than AI and higher than cloud. It's just that IT had to keep the ship afloat when COVID hit which shifted priorities.
Organizations expect to double remote workers
We know this has been played out and heavily covered, but we have to tell you that ETR was the first on this trend, way back in March, and the data here is instructive. It shows the percentage of employees working from home prior to COVID, currently working from home, the percentage expected in six months and then permanently. And this is primarily work from home versus a day or two per week.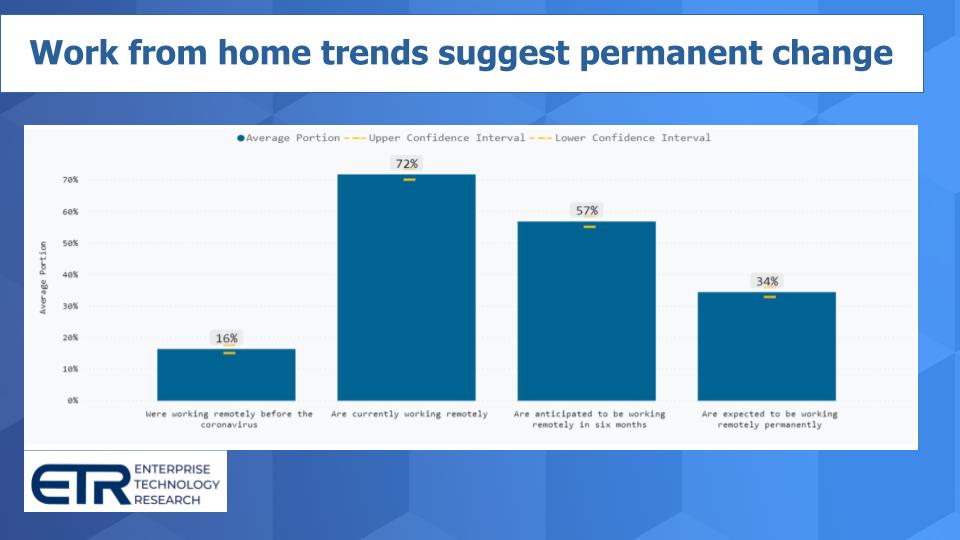 As you can see, only 16% of employees were working from home pre-pandemic, whereas more than 70% are at home today. And CIOs see a meaningful decline in that number over the next six months. We'll see if the fall and winter surge affects these plans. But then it settles long-term at 34%, double pre-COVID. So a meaningful and permanent impact is expected from the isolation economy that we're in today.
Working from home is working for companies
Look at this data. It shows the distribution of productivity improvements. So while 23% of respondents said work from home productivity impacts were neutral, nearly half the respondents are seeing productivity improvements, while less than 30% see a decline in productivity. And you can see the ETR quants peg the average gain at between 3% and 5%.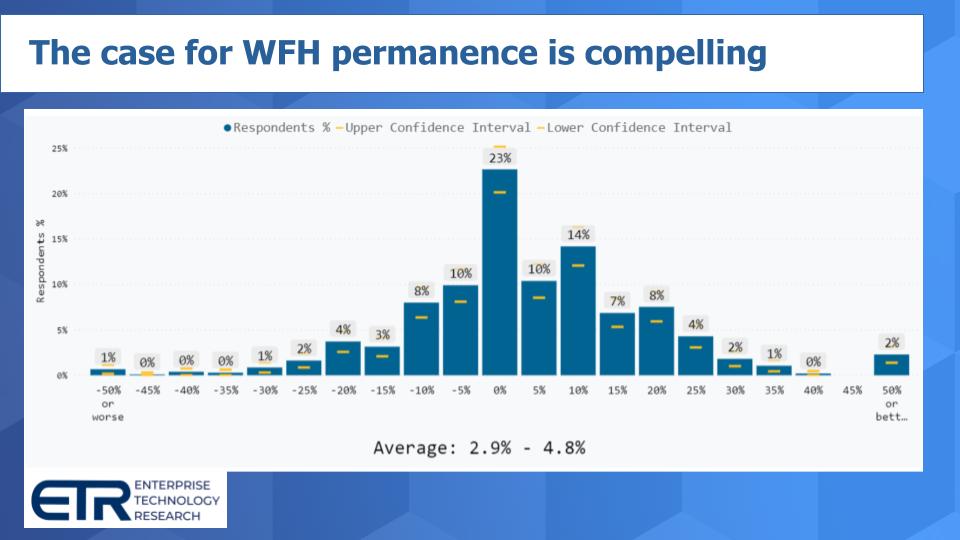 Now of course, not everyone can work from home but we're seeing in this digital economy with cloud and other technologies that we can work from anywhere in the world. And many employees are going to look at work-from-home options as a benefit. It was just a couple years ago that we were talking about companies such as IBM Corp. and Yahoo Inc. mandating coming into the office. Well, that trend is over.
Vendor quick takes
OK, a little speed round on some vendors of interest — here's a summary of the ETR analysis with some some CUBE Insights added.
Cloud
Amazon Web Services Inc. continues to be strong but with less momentum than Microsoft Corp. Same pattern there, but AWS churn is low, low, low. Data warehousing is soft, whereas we see Snowflake as very strong – but AWS share is very strong inside large companies. Cloud, teams and security are strong for Microsoft, whereas data warehouse and AI aren't as robust as we've seen before.
Google Cloud: Google has good momentum – steady especially in cloud, database, AI and analytics.
ServiceNow: Very low churn but hitting the law of large numbers. Still super-strong in large accounts but not the same red-hot momentum we've seen in the past.
Snowflake continues to show some of the strongest spending momentum going into Q4 and 2021…no signs of slowing down.
Security
Okta is showing continued momentum. Holding No. 1 in security momentum in the data set. No surprise given the increased importance of identity access management that we've been talking about.
CrowdStrike showed some softness in the last survey despite a good quarte,r but we see continued deceleration from extremely elevated levels. We like the endpoint security segment and CrowdStrike is a leader, but maybe it got a COVID injection that is moderating or maybe some of the big guys such as VMware Inc. are freezing the market with Carbon Black or maybe the survey data isn't reflective. Two survey snapshots don't make a sustained trend, but we would like to have seen a bounce-back this quarter.
Sailpoint is one we focused on recently and we see very little negative in their numbers. Holding solid.
Zscaler is showing strong momentum and while there was some concern last survey within large organizations, it seems that may have been an anomaly in the survey because Zscaler had a strong quarter and good outlook and we're seeing a strong recovery in the most recent data. It also looks like Zscaler is pressuring some of Palo Alto Networks' momentum heading into Q4, so we'll pay attention to that trend.
AI and data
Databricks: We're seeing a deceleration in the survey even though new customer acquisition remains strong. Put it this way: Databricks is still strong but not the off-the-charts outperformer that it used to be, according to the ETR analysis.
MongoDB: Virtually no customer churn but losing some momentum in the survey which is something to watch. And a big downtick in large organization acquisitions in the data.
Robotic process automation
UiPath momentum is slowing down a bit, but existing customers keep spending with very few defections, so it looks like their land-and-expand strategy is working well.
Automation Anywhere continues to be strong, despite the comments about the sector earlier. These two continue to battle it out for top spot in the data set within automation.
APM and logging
New Relic is showing some concerning trends on churn and the company is well off its 2018 momentum highs. We talked last week about some of the challenges New Relic is facing, but we like its tech and feel it can retain leadership if it can pull it together.
Datadog is showing the most strength in the APM sector, but generally those Net Scores are not off the charts as a sector. Given Datadog's high valuation, it's somewhat of a concern.
Splunk's spending intentions have decelerated relative to three months ago.
Zoom keeps growing, but ETR data cites churn of 7% because of security concerns, and a somewhat slower velocity for Zoom overall possibly because of competition from Microsoft Teams. But ETR threw out an amazing stat: Pre-COVID, Zoom penetration in the educational vertical was 15%. Today it's 80% – wowza.
Infrastructure
Cisco Systems: The core is weak but security and Meraki remain strong – similar story relative to last quarter.
Pure Storage remains the one-eyed man in the land of the storage-blind. Some softness in sympathy with a generally back-burner storage market that we've talked about for a while.
Rubrik is softening from previous highs. Cohesity has overtaken Rubrik in spending momentum but is still not as prevalent in the data set as we'd like to see. But Cohesity has the highest Net Score relative to comparisons such as Rubrik, Veeam, Nutanix, Pure, VxRail – even though some of these aren't direct competitors.
Red Hat is showing strength with OpenShift, but IBM's services business in the data set continues to be under pressure.
VMware has been an execution machine. That's thanks to the strength of VMware cloud on AWS and the VMware cloud portfolio with VCF, VMware Cloud Foundation and other offerings. But other than Tanzu, VMware is showing deceleration across the board. The one potential saving grace ETR shared with me is that Fortune 500 spending is stronger, so maybe on a spend basis VMware is fine, but there seems to be some potential exposure. We won't know for sure until late next year, but it's going to be interesting to see how Dell restructures VMware's balance sheet to get its own house in order and what impact that will have on VMware's ability to fund its future.
Dell Technologies, for its part, is showing strength in WFH and giant public and private companies, which is a bellwether. VxRail is strong. Servers and storage are still muted relative to last year but not really down from July – so it's holding onto a tepid spending outlook.
Aruba is the bright spot for HPE, but servers and storage markets are off overall, similar to Dell. Storage is particularly soft it seems in the latest survey.
Customer acquisition remains strong for Nutanix, but overall spending is decelerating versus year-ago levels within the infrastructure software and virtualization sectors, but storage looks stronger for Nutanix.
Summarizing the spending outlook
We see overall tech spending off 4% to 5% in 2020 with a slightly less bad Q4 sequentially. We see continued headwinds coming into 2021 and expect low-single-digit spending growth next year. There are some clear pockets of growth taking advantage of what we see as a more secular work from home trend – particularly in security – although we're watching some of the leaders shift positions. Cloud, despite the commentary earlier, remains very strong. AWS, Azure, Google, Red Hat OpenShift, serverless, Kubernetes, analytic cloud databases – all very strong. Automation also stands out.
And some of the themes we've talked about for a long time, in particular, the impact of cloud relative to on-premises, we don't see so-called repatriation as much of a trend as it is fear, uncertainty and doubt talk from on-prem vendors that don't have a public cloud. On the plus side for them, however, hybrid and multicloud are increasingly becoming strategic initiatives for customers.
Remember these episodes are all available as podcasts wherever you listen. Ways to get in touch:  Email david.vellante@siliconangle.com, DM @dvellante on Twitter and comment on our LinkedIn posts. Also, check out this ETR Tutorial we created, which explains the spending methodology in more detail.
Here's the full video analysis:
---
Since you're here …
Show your support for our mission with our one-click subscription to our YouTube channel (below). The more subscribers we have, the more YouTube will suggest relevant enterprise and emerging technology content to you. Thanks!
Support our mission:    >>>>>>  SUBSCRIBE NOW >>>>>>  to our YouTube channel.
… We'd also like to tell you about our mission and how you can help us fulfill it. SiliconANGLE Media Inc.'s business model is based on the intrinsic value of the content, not advertising. Unlike many online publications, we don't have a paywall or run banner advertising, because we want to keep our journalism open, without influence or the need to chase traffic.The journalism, reporting and commentary on SiliconANGLE — along with live, unscripted video from our Silicon Valley studio and globe-trotting video teams at theCUBE — take a lot of hard work, time and money. Keeping the quality high requires the support of sponsors who are aligned with our vision of ad-free journalism content.
If you like the reporting, video interviews and other ad-free content here, please take a moment to check out a sample of the video content supported by our sponsors, tweet your support, and keep coming back to SiliconANGLE.