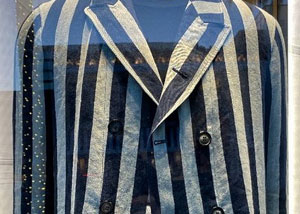 (JNS) – The Italian high-end fashion house Giorgio Armani recently removed from sale a blazer that resembled a Holocaust concentration-camp uniform following a request by the pro-Israel organization StandWithUs.
Roz Rothstein, CEO and co-founder of StandWithUs, first shared a photo of the "offensive" gray-and-navy vertically striped jacket on April 4 on Twitter, after being displayed outside an Armani store in Beverly Hills, Calif.
A photograph of the blazer, part of the fashion label's spring-summer 2021 Men's Collection, was also shared on Armani's official Instagram page.
Rothstein called on Armani to apologize and remove the item for purchase.
StandWithUs said on Facebook about the "distasteful" item: "This is an awful look for anyone who cares about Holocaust memory or for anyone with their own personal memory of Nazi concentration-camp uniforms that prisoners were forced to wear. Georgio Armani should rethink and withdraw this insensitive 'style.' "
The organization has announced  that Armani responded to its request by pulling the item. The photo of the jacket on Armani's Instagram page was also deleted.