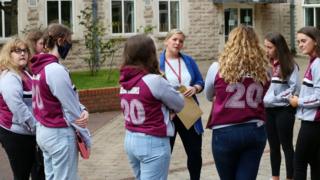 A mixed picture has emerged as thousands of pupils opened their A-level results across Northern Ireland on Thursday.
The results, based on predicted grades and past performance after the coronavirus pandemic caused final exams to be cancelled, saw the overall pass rate of pupils achieving an A*-E grade rise by 0.8% to 99.1%.
However, 37% of estimated grades were lowered and 5.3% were raised.
'Dreams ruined by an algorithm'
Down High School student Charlotte Hart says her final grades do not reflect the effort and hard work she had put in this year and she fears her dreams may have been "ruined by an algorithm".
Writing an open letter to the Education Minister Peter Weir on Twitter, she said she had applied to study politics and international relations at the University of Bristol.
She writes the minister should be "embarrassed and ashamed" and urged him to "fix the wrong doings and finally take some responsibility".
"Do right by your pupils and fix this mess," she continued.
'If I hear the word anomaly again, I am going to scream'
Amanda McNamee, principal of Lagan College in Belfast, said pupils had been let down and she felt "disappointed and embarrassed".
"They are real children with real lives, they aren't computers, they are not data, not anomalies, and I feel we have let them down.
"If I hear the word anomaly again being linked to an actual real person, a real child, I think I am going to scream."
She added it wasn't fair to suggest predicted grades need to be adjusted because teachers were prone to over mark.
"I spent weeks in school during the Covid pandemic looking at every single child, every single grade, making sure that ethically I could stand over them."
'I can't see any logic behind this'
Bangor Academy principal Matthew Pitts Matthew Pitts, said 63.4% of his school's grades had been lowered.
"Our school is 25% below the A-levels we achieved last year," he said.
"We've been working really hard as a school over the last few years and our results have gone up 20% and we're really proud of it."
He told BBC News NI he had "no confidence whatsoever in what has been used" to determine the grades.
He said a pupil was sobbing in his office on Thursday morning who had a B and two Cs at AS-level, but had now been awarded a C and two Ds at A-level.
"I can't see any logic behind this," he added
"The important thing in this is not data, it's children and their futures."
'Didn't really matter anyway'
Limavady student Filip Kazubski said he was happy with his results, although admitted they "didn't really matter anyway".
He received three Cs in performing arts, moving image and visual technology.
An unconditional offer means he will now be studying at Edge Hill University in Lancashire.
'Happy enough'
Katie McCusker, from Limavady, said her results were not as high as she would have expected if she had sat the exams, but she was "happy enough" as she can plan for life at Queen's University Belfast.
Katie was awarded two Bs in health and social care and a distinction in child development which means she can progress to study social work.
'Delighted with the results'
Olwen Black, vice-principal of Boys Model School in Belfast, said there were no surprises in the results at her school.
"I'm glad to say this morning that we are delighted with the results for the boys," she told the PA news agency.
"74% have got A-C grades and they will take the boys where they hoped."
She added that there had been an anxious period for staff leading up to the results.
'Sheer disappointment'
The principal of St Cecilia's College in Londonderry said the results appear to be "very erratic" and described "a lack of consistency".
Martine Mulhern said she did not sleep the night before the results were published as she was "worried about going in and facing the day".
She told BBC News NI: "I understand these are very difficult circumstances and CCEA has worked very hard to come up with a model, but in all of that what has been lost are the children."
'Beggars belief'
The head of Erne Integrated College in Enniskillen, County Fermanagh, said it "beggars belief" that 45% of the school's A-level pupils' grades were marked down from the results predicted by teachers.
Principal Jimmy Jackson-Ware said staff spent hours analysing the performances of pupils "before it went off to CCEA".
"It begs the question, did they even consider them?" he asked.
"We have had students who had a teacher assessed grade of C, who were marked down to an E.
"I don't know how you explain that," he said.
'Better than I'd hoped'
A-level student Ross Barr said his results were better than he had hoped for.
On Thursday, he received his results for maths, biology and business, achieving a C, B and a distinction.
The grades mean he can study accountancy at Northumbria University.
'Inexplicable'
A parent who contacted BBC News NI, but did not want to be identified, said his daughter had been left inconsolable after her predicted B grade at AS-level was reduced to a U.
In her other grades, the girl was awarded two Bs, leading her father to describe the U grade as "inexplicable".
"She was in floods of tears, she was absolutely devastated," he said.
"Her whole world is falling down around her.
"She wants to go on and do a veterinary course at university and realising now that her dreams have been crashed because she won't be able to do this course."
'Huge anomalies'
"We have had teachers dealing with children who have had their dreams and aspirations taken away from them by an algorithm," said Glastry College Principal Alan Hutchinson.
The County Down school saw 56% of its grades reduced from what teachers had predicted.
Mr Hutchinson said he had "no confidence whatsoever in what has been used".
"There are huge anomalies," he added.
"One pupil who achieved and was predicted an A at AS-level has been taken down to a B – another pupil hadn't achieved an A but has been awarded an A.
"The important thing in this is not data, it's children and their futures."