90 Day Fiance
star
Yara Zaya
has launched her own online clothing store.
Ever since Yara began appearing on Season 8 of 90 Day Fiance with Jovi Dufren, she has amassed thousands of Instagram followers who frequently ask Yara for beauty tips and gush about her cool and sexy style in the comments. 
RELATED LINK: '90 DAY FIANCE' COUPLES NOW: WHO IS STILL TOGETHER? WHO HAS SPLIT? WHERE ARE THEY NOW? (PHOTOS)
And now, Yara is sharing her personal style with fans because she has launched a website on which people can shop and purchase clothing — including several of her favorite dresses and ensembles.
"Hey guys, TODAY will be the launch of Yarazaya Shop," Yara, a 25-year-old from Ukraine, captioned a photo of herself in a tight, long-sleeve taupe dress on Instagram over the weekend.
"This has truly taken so much time and work and it's not 100% yet, but I want you guys to have access to all these amazing items. Each week I will be bringing new items to keep you up to date in all the latest fashion trends."
Yara continued, "Dare you jackets will be available for your purchase. The best news about this jacket is everyone sold in the first week will be sent with a hand written letter signed by me!!!!"
"Get them fast as there will be a limited amount!!! Stay tuned guys and I hope you will enjoy. 2PM CST LAUNCH!!!!!!!!! Also, this dress in my picture will be featured with my favorite items," she concluded.
This week, Yara has been posting photos of herself in certain pieces that are for sale.
On Tuesday, Yara posted a photo of herself in a long-sleeve purple minidress and captioned it, "Soon in yarazaya.com we will have many options plus size clothing #90dayfianceseason8 #90dayfiance #90dayfianceyara."
And one day before that, the TLC reality star shared an image of herself in a tight green knee-length dress with spaghetti straps and a gold belt.
RELATED LINK: '90 DAY FIANCE: BEFORE THE 90 DAYS' COUPLES NOW: WHO IS STILL TOGETHER? WHO HAS SPLIT? WHERE ARE THEY NOW? (PHOTOS)
"Love this dress. yarazaya.com," Yara wrote alongside the image.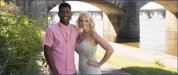 RELATED LINK: '90 DAY FIANCE' COUPLES NOW
The items in Yara's online store, such as fuzzy sweaters and leather jackets, range in price from around $40 to $100. Yara apparently decided not to sell any bottoms such as jeans, skirts or pants.
As shown on Season 8 of 90 Day Fiance, Yara met Jovi, a 29-year-old who works in underwater robotics from New Orleans, LA, through a travel app.
"Really good sex" in Budapest, according to Jovi, resulted in the couple dating and traveling the world together.
Six months into their relationship, Yara got pregnant but later experienced a miscarriage. Despite the pain and hurt the incident caused, the couple stayed together and Jovi filed for a K-1 visa so Yara could move to New Orleans and marry him.
Once Yara moved to America, she said she loved Jovi but the pair had to work through some issues. Yara accused Jovi of drinking too much, and Yara disappointed Jovi's mother Gwen by wanting a quickie wedding in Las Vegas instead of a big wedding for family and friends.
Yara then got pregnant again and didn't exactly feel ready for a baby, especially because she and Jovi couldn't seem to stop fighting — even at their own engagement party.
Yara therefore gave Jovi an ultimatum, saying he needed to cut back drastically on his drinking and partying or she'd fly back to Ukraine and raise their child as a single mother. She also told Jovi that she couldn't envision herself living in New Orleans permanently.
In the latest episode, Jovi promised Yara he would be more sympathetic, supportive, caring and attentive, and so the couple seemed to be getting back on the right track.
RELATED LINK: '90 DAY FIANCE: HAPPILY EVER AFTER?' COUPLES NOW: WHO IS STILL TOGETHER? WHO HAS SPLIT? WHERE ARE THEY NOW? (PHOTOS)
To read spoilers on Yara and Jovi's pregnancy and relationship and whether they are still together, click here.
Want more 90 Day Fiance spoilers or couples updates? Click here to visit our 90 Day Fiance homepage!
About The Author:
Elizabeth Kwiatkowski
Elizabeth Kwiatkowski is Associate Editor of Reality TV World and has been covering the reality TV genre for more than a decade.