Asus, as a brand, is known for making some really powerful machines derived from innovations and advancements. One such machine was the ROG Flox X13 which was launched last year. The Flow X13 was a powerful gaming laptop with the size and form factor of an Ultrabook. The laptop weighed just 1.3 kg and packed powerful internals such as up to AMD Ryzen 9 chipset, 32GB RAM and a dedicated GPU. Along with that the laptop also included the option to attach an external GPU via a proprietary PCIe slot.
While the Flow X13 received a positive verdict from us, it was the display size we always wanted Asus to put a bigger display in a similar 2-in-1 slim form factor.
Almost a year later, Asus finally introduced the Flow X16. As the name suggests, it belongs to the Flow lineup and features a bigger 16-inch display in a relatively slim and compact form factor.
Let's put the design aside for a while, the company has also ensured top-notch performance from it by offering AMD Ryzen 9 6000 series processor, Nvidia GeForce RTX GPU, DDR5RAM and XG Mobile external GPU support.
Well, we have been using the ROG Flow X16 for a while now and here's what we think about it.
Well, we have been using the ROG Flow X16 for a while now and here's what we think about it.
ROG Flow X16: Design and display
Asus ROG Flow X16 carries the same design aesthetics as the Flow X13. The carbon finish exterior, the 2-in-1 hinge design and thin and light chassis, everything combined makes it a pretty impressive 16-inch machine.
However, we did feel that Asus should have kept the regular laptop form factor instead of the 2-in-1 design as using a machine of this size in tablet mode feels a little weird, except in certain situations like while playing games on an external display with XG Mobile GPU, or when you are using the laptop as an entertainment device.
The build quality is solid and Asus has done really good here. Under the lid, you,ll find the keyboard and trackpad. The keyboard is RGB backlit and the trackpad is glass. As per our initial impressions, both work as expected. The key travel is good and accurate. Also, the trackpad is responsive and supports gestures.
The ROG Flow X16 boasts a 16-inch AMOLED display with Nebula HDR, Dolby Vision, 165Hz refresh rate, 3ms response time, Pantone Validation and 100% DCI-P3 coverage.
The display has a peak brightness of 1100 nits which in our view is among the best one can find in laptops. The display gets pretty bright and we never faced any issues while using the laptop outdoors. The colour production, contrast level and saturation are impressive.
ROG Flow X16: Performance
The ROG Flow X16 is powered by AMD Ryzen 9 6900HS processor paired with Nvidia GeForce RTX 3070 Ti GPU, up to 64GB DDR5 RAM clocked at 4800MHz.
The laptop also comes with 3PCIe Gen 4×4 SSD Slots and an XG Mobile port for attaching the external GPU.
In our initial tests, the Flow X16 delivered what we expected. The machine managed to handle most day to day tasks without any issue, stutter or lag.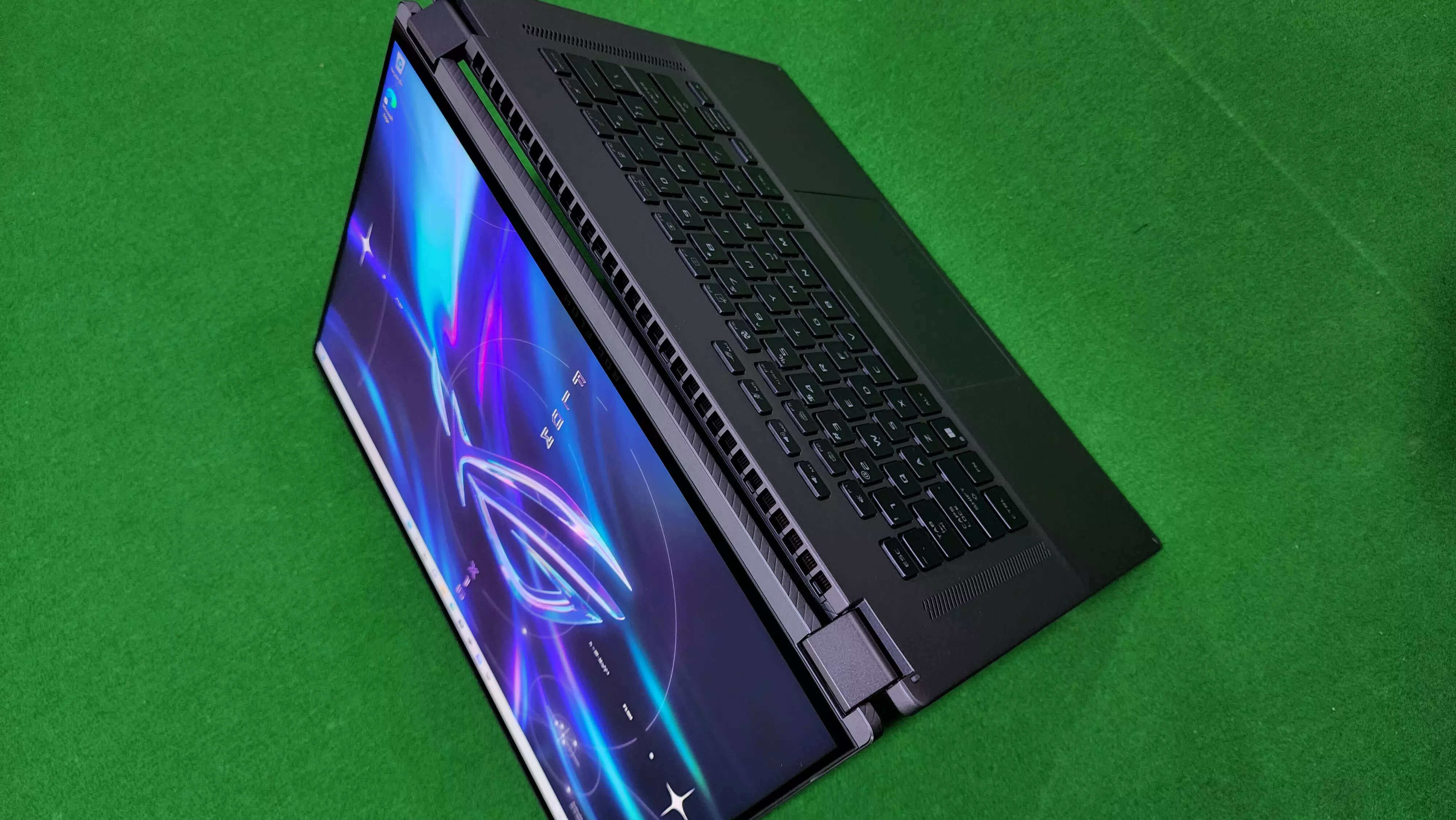 We also installed resource-hungry software and games like Premiere Pro, Photoshop, Halo Infinite, etc. The laptop handled them pretty well. However, we will do an extensive performance test in our full review of the laptop.As far as initial performance is concerned, the Flow X16 is a promising performance machine that can handle almost anything.
The good part about all that power is that Asus has managed to implement an effective cooling system here which managed to maintain the laptop's cool under heavy load.
In terms of software, the laptop also comes with the entire ROG software suite which includes the Armory Crate that allows users to manage performance, AuraSync lights and more of the laptop. The laptop also comes with MUX or Multiplexer Switch which allows users to manually engage or disengage the integrated graphics. This allows frames to be routed directly from the discrete GPU to the display translates in increased performance and an overall better gaming experience. The battery life of the laptop also appears to be fine and as per our initial impressions, the Flow X16 can easily deliver around 5 to 6 hours of battery life under normal usage. Asus ROG Flow X16: What we thinkROG Flow X16 is a pretty impressive machine. It features a compact design and a thin and light chassis. Apart from that, it also comes with promising internals. Basically, it has all the traits of a really good gaming laptop. It offers good performance, and battery life and is also future proof with the external GPU support. However, this is just an initial impression of the laptop, do check out our full review for our final verdict.