Madhuri Dixit has not just fans across the country, but she has several admirers in Bollywood too. Popularly known as the 'Dhak Dhak' girl, Madhuri is celebrating her birthday today and we spoke to some of her close actor-directors from the industry. Sanjay Kapoor, David Dhawan, Ganesh Acharya and others spilled fond memories of the celebrated actress.

David Dhawan: Madhuri Dixit is very professional and focused
It was so good of Madhuri to do a guest appearance in the song with two great actors, Amitabh Bachchan and Govinda. Three of them together were an outstanding combination. We had an idea of this song while making 'Bade Miyaan Chhote Miyaan'. We went to Madhuri and it worked out very well with her, because I was doing a film with her. I had to finish that song in time because I had only four days with her. She is one of the best actresses I have worked with. Madhuri is very professional and easy going, she focuses on work.
Sanjay Kapoor: Madhuri Dixit never took her stardom seriously
Madhuri Dixit will always be a superstar. The best quality of her is the person she is. I worked with her last in 1997. And when I worked with her again for The Fame Game, a year and a half ago, she was still the same. She is still the same warm person to the newcomers as she was when I was a newcomer. They also never felt like they were working with such a big star. So, you feel like showering her with warmth and respect because she herself is kind and receptive towards others. I think the love and admiration that she gets is not just because of her stardom but also because of the person that she is.
I think there's a time for every actor. There were times of Nargis Ji, Nutan Ji, and Vyjayanthimala Ji. Then Hema Ji had her time. Then came Madhuri. So, everybody has their time. We shouldn't be comparing her with today's actors as well. Because they are good in their own way. What I feel is that the niceness that she has inside her reflects in her grace while dancing. In any song that she does, there's a lot of vulnerability and grace about her. What I've noticed about Madhuri is that she never took her stardom seriously. She knew that this was her job. She was the same person with everyone whether it was a co-actor or a spot boy.
Recently, it was Ram's birthday. There was so much warmth when I went there for his birthday. You know it is with most women that when they get married and have kids, they want to make sure that they spend more time with their kids and make sure that they have a good upbringing. That is what Madhuri did while she was at the peak of her stardom. And when she came back to acting, she came with a bang. She is doing so well for herself and looking even better than earlier. She looks like a million bucks.
Ganesh Acharya: Madhuri Ji is the best dancer
I have choreographed her in all the songs from 'Lajja' including 'Badi Mushkil'. Manisha Ji was a little nervous to dance with Madhuri Ji. But Madhuri Ji made her feel comfortable and they rehearsed at the Ramoji Film City studio.Madhuri Ji is the best dancer. We are lucky to have got the opportunity to work with her. She surrenders to the vision of the choreographer and often adds her inputs in expressions which make her such a great artist. She has matured as an artist over the period of all these years.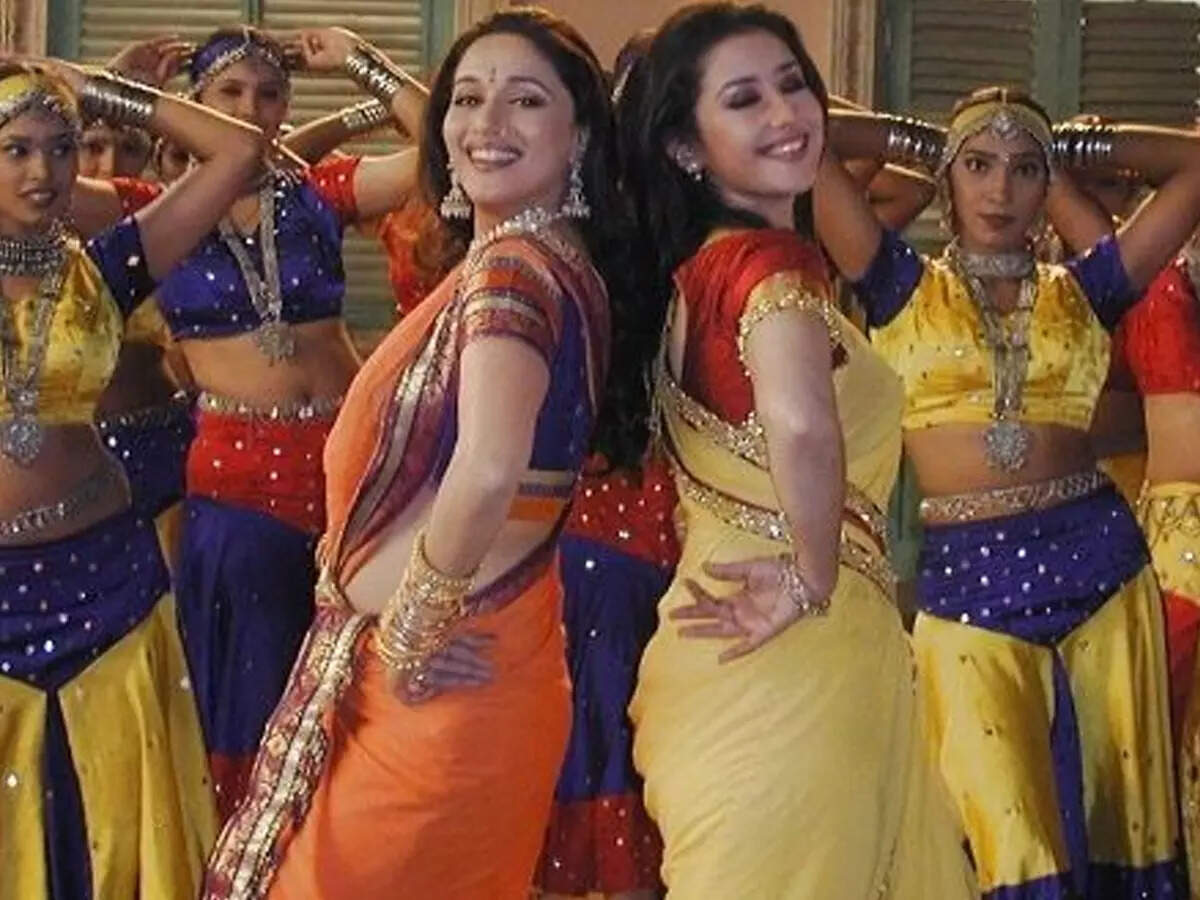 Shashank Khaitan: Madhuri ji is truly a legend
I think one of the biggest reasons why I did the dance reality show with Madhuri Ji is because she is such a legend of Indian Cinema and dance. She is such an amazing person and not once did she make me feel like who are you or you're just a newbie. She was so warm and kind. She almost made me feel as if I have more years of experience than her. She was behaving like a newcomer. I was amazed by her professionalism; always on time, does not crib. Whenever contestants would request her to show them a dance step, the way she would do it, I don't think anyone in the world could do it. She is truly the legend, the diva, this country has ever seen.
We would have discussions about movies and scripts and what the future of cinema is. She had that childlike enthusiasm to understand how we can grow as an industry, and what better work she can do. Now when she has done a show like The Fame Game on Netflix, it's amazing to see how she is managing her career. Because I think even today whenever somebody looks at her, looks at her like The Madhuri Dixit.
What I was shocked about was her singing. Everyone knows Madhuri as an actor and dancer. One day, one of our contestants was getting changed, and suddenly she said, "Shashank main tumhe ek gaana sunaoon? I have sung some songs in English." I said, "Haan ma'am sunaaiye." In fact, she had later released one song also. And suddenly she started making me listen to the songs on iPod. And I was just stunned. I asked her who this singer is. And she said, "Yeh main hee hoon." Then I got to know that she is a trained singer. She also told me that after going to the US, she got trained in Western music as well. It was just unbelievable. I was amazed by the amount of talent she has. Itne saalon baad bhi itna talent bacha hai ke logon ne dekha nahin hai. Working with Madhuri Ji on a film is my dream. I am trying to write a script that she would say yes to. But whatever I know of her, I will have to write something great because she doesn't fit into a conventional role. Many people think that she will be doing mother's roles because she is a certain age. But I can't imagine her in the role of a mother. I still think she is the main lead heroine. She is a superstar. She is a dear friend. Whenever we meet, she greets me with warmth. I hope that I'll write something for her soon.