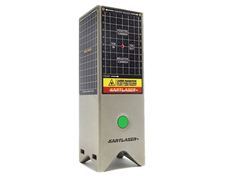 New German Kartlaser system delivers low cost all-in-one laser alignment system for karting
Munich, Germany, January 21 2015 – Kartlaser, the German kart engineering company, has launched a revolutionary new all-in-one kart laser alignment system for all levels of kart racing.
The new patent-pending Kartlaser laser alignment system, which was introduced to positive feedback at the recent IKA 2015 kart show in Offenbach am Main, Germany, offers twice the functionality of existing laser alignment technologies using just two laser units, as well as simplified operation, saving both time and money.
The design of new Kartlaser uniquely allows kart racers to align both chassis and steering elements with just a single pair of laser instruments, halving the cost of full laser alignment tooling for amateur kart racers. The Kartlaser kart laser alignment system also removes the need for expensive accessories and lengthy setup to carry out caster and king pin measurements.
Because of new patent-pending technology, Kartlaser is the only karting laser alignment system that can directly measure toe, camber, caster and king pin angles, as well as being able to measure chassis twist, crab and bend using a single pair of instruments, removing the need to buy an expensive second set of instruments for chassis alignment.
Pressure die-cast from lightweight, tough, corrosion-resistant magnesium-zinc – one of the lightest structural alloys available – and featuring custom-programmed microprocessor-controlled electronic laser modules, Kartlaser is the lightest, most advanced, and most flexible karting laser alignment product available today.
Each Kartlaser karting laser alignment system has three laser alignment mechanisms to ensure the laser beam is precisely parallel to the axis being measured. In addition, each Kartlaser set is factory-adjusted on a specially-made alignment table during final testing.
Kartlaser's high precision microprocessor-controlled axially-aligned laser is activated by a single pushbutton, with custom control software to avoid accidental activation during transport and extend battery life.
Kartlaser kart laser alignment system uses a unique, patent-pending arrangement to allow fore-and-aft chassis alignment measurements, and has built-in neodymium-ferrite-boron magnets to allow secure attachment to ferrous materials such as stub axles. Kartlaser also features a built-in QuickLok attachment mechanism for dynamic measurements on non-magnetic materials.
Kartlaser is the only karting laser alignment system to feature a custom-made multi-directional spirit level, allowing the system to be used in wide variety of directions and for numerous additional measurement functions.
Kartlaser is shipped in a custom-cut foam-lined high strength clamshell box, complete with a 11 page instruction manual that explains the principles behind steering and chassis setup, as well as how to operate the system.
A large investment in design and production tooling allows Kartlaser to deliver the power and speed of a complete kart laser alignment system at a price that is accessible to every kart racer. More information can be found at www.kartlaser.com
ABOUT KARTLASER
Designed and manufactured in Munich, Germany, Kartlaser is the most advanced, reliable, flexible and cost-effective karting laser alignment system available today. With several patent-pending inventions, and funding support from the German government's SIGNO programme, new all-in-one Kartlaser now brings professional laser alignment tooling to fit the pocket of almost any kart racer.
Website: www.kartlaser.com
Contact: Chris Larmour
Email: chris.larmour at kartlaser.com