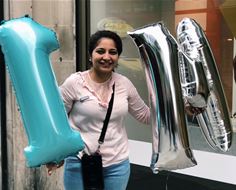 London, UK – 3rd June 2019. Four years since its first shift, flexible workforce platform, Catapult, is celebrating 1 million hours worked by its experienced retail and hospitality staff.
The milestone was reached by Sherehan Abdelmoti, a retail and events-trained candidate, during her shift at Clarks' Marble Arch store on Oxford Street. Abdelmoti, who joined the platform in September 2018, has worked a total of 219 shifts with Catapult, 186 of those with Clarks.
Catapult co-founder, Oli Johnson, said:
"The traditional part-time job falls short on its main promise to workers and employers – namely flexibility. At Catapult, we're working hard to address this problem and, in the process build the part-time job of the future. This milestone shows that there's real appetite for a flexible, high-quality and transparent workforce platform."
Catapult's 1 millionth hour of work follows on from a successful start to 2019, which has seen the company complete a nationwide rollout to more than 100 towns and cities in the UK and raise a further £4.3 million, bringing Catapult's total investment to £10 million.
Catapult focuses on front of house roles in the retail and hospitality sectors, which together account for almost one-in-five jobs in the UK. Its employer partners include Clarks, New Look, Topshop and North Face as well as smaller independent chains like PAUL bakeries and Planet Organic.
The platform uses AI to match workers' skills and experience with employers' unique requirements. Candidates receive a stream of shifts via the app, giving them the flexibility to select only shifts that suit their availability. In turn, the employer platform enables businesses to meet fluctuating staffing needs by putting a pool of vetted and trained candidates at their fingertips.
Behind the technology, Catapult's team provides candidates and employers support 7 days a week. It employs staff on worker contracts that include holiday pay, minimum wage, and PAYE payroll.
-ends-
About Catapult
Founded by Steffen Wulff Petersen, Oli Johnson, and Ben Dixon, it's Catapult's mission to give the UK's 3 million part-time hospitality and retail workers greater flexibility and control over the way they work.
Catapult has received funding from a range of high profile VCs and angel investors, including the partners of Novator Partners (investors in Zwift, Klang Games and Rebag) and Rocket Internet's venture investment arm, Global Founders Capital, with participation from Elkstone Capital.
Catapult's partners post thousands of hours daily and the average shift fulfilment time is 6 minutes. Catering to a broad range of flexible workers, Catapult's users are predominantly students, parents, workers, creatives, travellers and retirees.
For further information, please contact:
Georgia Doyle
W: www.joincatapult.com
E: [email protected]
M: +44 (0)7541943528